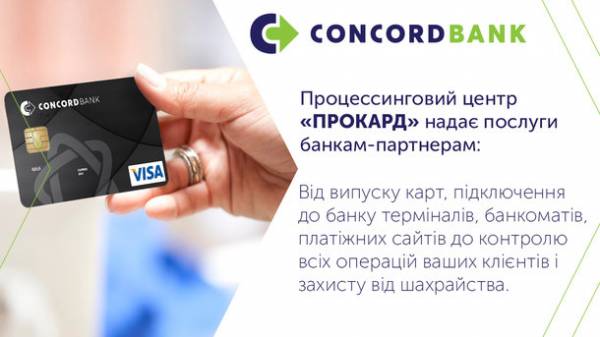 High quality and competitive work fin.institutions and trading networks is impossible without the speed and integrity of processes such as card issuance to customers, connection of ATMs, payment sites, maintaining a system of loyalty and discount programs. The new processing center "Procard" has improved the lives of Ukrainian business owners, taking all the process on themselves and bringing them to perfection. Become a customer very easily by contacting the representatives of "Procard" on the website: http://www.procard.ua. The first tested the Concord Bank and…happy.
"PROCARD" takes care of everything from on-net discounts and ATMs to attract customers
– "PROCARD" is a new company that supports their payment cards of banks-partners of the NBU. – The Director of the processing center "PROCARD" Irina Tsyganok. – Mastercard and Visa have certified us as a member of international payment systems, directly connected to the channels and allowed to operate in this market. And international auditors confirmed the status of this processing as a safe and reliable partner. Very convenient when you entrust the processing center all at once the key services on which the Bank's work, and I am sure that it will work like a Swiss watch.
Who needs processing services "PROCARD"?
– banks and any other financial institutions ( cards, terminals, ATMs, payment sites, resolving disputes on transactions card customers);
– networks of retail outlets (storage and processing of data for conducting a loyalty program or discount. For example, the accrual of points for the consumed goods, services, frequency of visits, "Agency" attracting other customers, all on-net discounts and gifts, etc.)
What specific services are provided by processing center "PROCARD"?
– Issuing cards to clients of partner banks (just as with magnetic tape, and a chip for contactless payment), which operate worldwide and the generation of pin-codes to them;
– placement on the maps program to access system or an electronic signature;
Connection of point of sale terminals, ATMs, self-service kiosks, payment Internet sites to your Bank;
Authorization of card transactions in the terminal, ATM or payment site;
– Round-the-clock support to all processes related to purchases by cards, cash withdrawals, payments and transfers and the protection of these processes from fraud;
– Assistance to banks in settlements on card transactions;
– The decision of disputes on operations of card customers.
– maintaining of loyalty programs of retailers.
As it specifically improves the quality of work?
Clients fin.institutions and retailers get maximum speed, accuracy, continuity in everything – from transactions with payment cards, payment of communal, order tickets via the Internet banking service to anywhere in the world, bonuses and discounts and priority access to all the ultra-modern card products and innovation.
The first client "PROCARD" became Conked Bank.
After the introduction of the new processing in Concord clients have received not only the maximum speed, but also access to the latest banking developments. – Says the Chairman of the Concord Bank Elena Ostanina. For example, we were immediately introduced the service of sending PIN codes via SMS instead of inconvenient and unsafe pin envelopes.
Learn more about "PROCEDE" can be read at: http://www.procard.ua/ , any questions can be asked by phone: (067) 630-19-03 or mail: [email protected]
Comments
comments