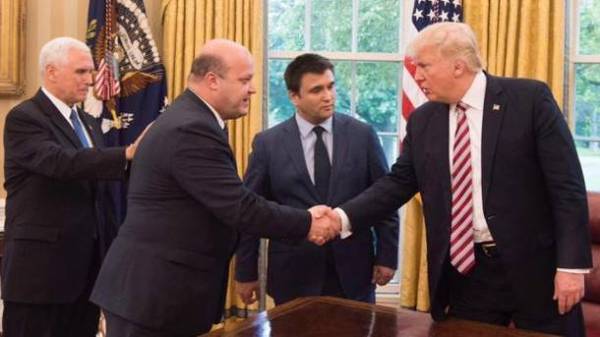 The meeting of the presidents of Ukraine and the USA will put an end to the development of U.S. strategy not only toward Ukraine but also in relation to the region as a whole. About this, commenting on the negotiations of Petro Poroshenko with Donald trump, said the Ambassador of Ukraine to the United States Valeriy Chaly on the TV channel "112 Ukraine".
According to him, the meeting in the White house lasted for half an hour. "Just now the President and sent to the Pentagon. Another planned meeting with us Secretary of state Tillerson. That is, it is absolutely successful visit of the President of Ukraine, timely and meaningful. Obviously, all tell with a meeting in the oval office, where I was present, it would probably be inappropriate. But I can tell you such details. First, support was expressed to the presidents debated very important for both countries", – said the Ambassador of Ukraine to the USA.
Secondly, according to Valery Chaly, the President provided specific materials, maps, pictures, etc. "that is, it suggests that the President trump sees and keeps the focus on this issue and about the world in the first place, about how to return to clear the world order in Europe. In particular, it is important for us to support our country in countering Russia. And I can say that I heard the word "Crimea", which is very important for us. There were questions of our cooperation in military-technical sphere", – said Chaly.
We will remind, presidents of Ukraine and the United States during a meeting in the White house discussed in detail the steps that will be taken ahead of the visit of Donald trump to Europe for the G20 summit.
Comments
comments