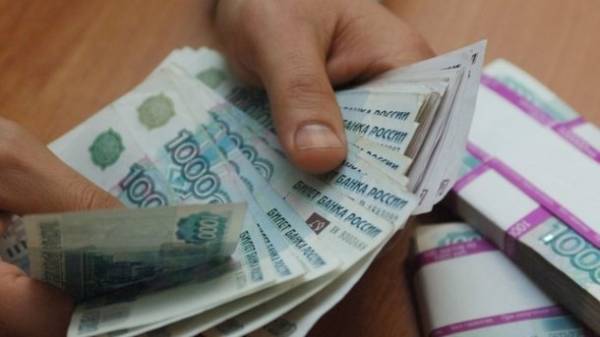 During today's trading on the currency market the pair dollar/ruble rose to 60.2, while the Euro/dollar to 67, which is a maximum for 4.5 months.
Over the past five trading sessions, the dollar/ruble rose more than 5%.
The dollar against the ruble on the Moscow stock exchange:

According to senior analyst "Alpari" Roman Tkachuk for this there are five reasons:
Discussion of new sanctions against Russia in the U.S. Senate. Political risks continue to grow, this is unnerving investors. The ratio of risk/profitability of Russian bonds in the eyes of investors is not so attractive, even given the high interest rates on the bonds. The sale of state bonds are observed for five trading sessions in a row.
The reduction in the rate of the Central Bank, the fed rate hike United States. Last week, the Central Bank lowered the rate by 0.25%, the fed raised the rate by the same amount. Thus, the spread between interest rates narrowed further, by 0.5% until the end of the year will decrease by about 1%. This makes Russian bonds less attractive to investors.
The decline in oil prices. In January-may, it seemed that the ruble has developed immunity to lower oil prices. So, amid falling oil by 10% in the first half of June, the dollar/ruble rose 1%. Indeed, the dependence of the Russian budget from energy price dropped to 40%. But if Brent is around $50 per barrel, this level is comfortable for the Russian budget, and $45 per barrel is not. To continue to ignore the decline in oil prices on the ruble could not.
The purchase of foreign currency from the Finance Ministry. The Ministry of Finance continuing the gradual purchase of foreign currency for the year he plans to acquire 624 billion. moreover, the Ministry plans to 2017 to buy currency at 2-3 billion dollars. It fits 170-250 million dollars a month. In addition, the currency of the reserves buys Treasury. Within the Forex market is not such a large amount, but still it is water to the mill of the weakening of the ruble.
"From the point of view of technical analysis, this week the us dollar went up from a narrow range 56-58,5 in which he traded for 3 months. The current weakening of the ruble could prompt Russians are planning summer holidays abroad, buying foreign currency. Thus, the weakness may last a few days of inertia," notes the analyst.
Comments
comments