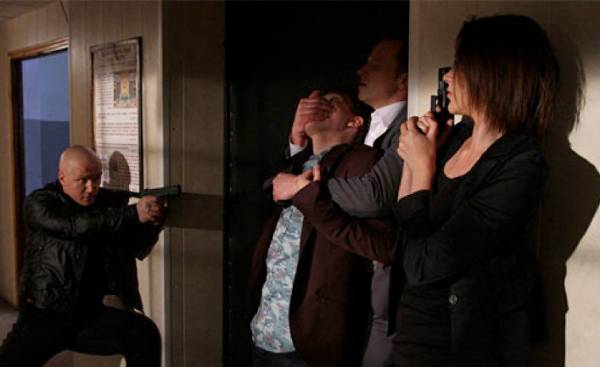 Sometimes they come to Poland to tell the press, they fear the dictatorship of the party "law and Justice" (PiS). "Fear has returned", — said recently the actor Damincci Mateusz (Mateusz Damięcki).
"How I became Russian" is a Russian TV series in which he plays a major role. It depicts American journalist, who arrives in Russia and the first time scared her, and then falls in love with this beautiful country.
To play Putin himself
In turn, Maciej Stuhr (Maciej Stuhr) has become a star of the series "Insomnia", having played there character, reminding the audience of Vladimir Putin. "If I (like most Russians) didn't know who it is, I'd think it was someone like the son of Putin. Vladimir also posing as a tough guy, and looks very average. They're both balding blond with a long face. The resemblance is quite strong. Perhaps the Russians so admire Maciej and invite him to do just because it seems to them a sort of Dylan in his youth", — was told about the role of the Stuhr Director Marek Mos (Marek Mos) in an interview with the newspaper Superexpress.
Polish actors don't like being accused that they are doing propaganda for Putin. Michal Zhebrovsky (Michał Żebrowski) told channel TVN on its role in the anti-Polish film "1612": "Believe me, I wouldn't have to be in the anti-Polish film. It goes against my Patriotic position. I believe that such virtuoso acting and directing that I met on the set, did the movie needful moment. It is a legend, a tale, a parable."
Mateusz Damincci boasted recently in an interview with Wirtualna Polska, Russia has become his passion. As he says, he was fascinated by the contrast between what he sees and Polish stereotypes about this country. "When I got there, I couldn't get out, but I have and didn't want to get out of there. This place has a lot of truth, it is soaked in it. The trip to Russia gives wisdom," he explains.
Putin at the head of the Department of cinematography
However, the Russian cinema is not the truth and (at least since 2008) is not particularly hiding it. "Vladimir Putin decided to take a national film industry under his wing, so he headed the Council for the development of national film industry, which will provide financing for films and helps filmmakers find funds for filming. In addition, Putin wants to establish the mechanisms of production, distribution and promotion of films" — reported December 16, 2008 themed website filmweb.pl.
This was followed by specific statements. "Putin promised in the near future to allocate from the budget of 2 billion rubles on the support of cinema, in 2010 this amount will be increased to 4.3 billion." Promises largely failed. The amount of public funding increased from a few dozen million dollars in 2000 to 200 million in 2013.
Perhaps Polish actors smitten with love for Russia and forgot about her crimes because of the fees that they get there. The veil of secrecy in the newspaper Rzeczpospolita raises Szlagowska Malgorzata (Malgorzata Szlagowska) — Director Russian film festival "Sputnik over Poland: "the Polish actors become more willing to play in Russia. (…) There they earn 5-10 times more than in Poland." How wrote portal Jastrząb Seriale, Mateusz Damincci "gets the season about 300 thousand PLN (about 71 thousand Euro approx. lane), and the producers are already thinking about filming the third season of this hit".
"I am very much afraid"
Damincci began to travel to Russia at a very young age, and his relationship to this country has not changed nor the destruction of 250 thousand Chechens (of which 40 thousand children), nor the attack on Georgia or Poland bordering on Ukraine. In one of his interviews he talked about St. Petersburg: "I fell in love with this city at first sight, I hope that one day I will be able to settle there". The actor is not scared of a concentration camp in the Caucasus, in which people were burned alive, but, when the authorities in Poland, a party of "law and Justice", his face contorted in terror.
"We back in the days, filled with aggression, — he shared his impressions on the pages of Wirtualna Polska. — Returned the fear with which I do not want to touch in the free world in 2017. This fear is associated with lack of tolerance, intolerance. (…) I am very much afraid that people in the name of some higher good, which they imagined, will begin to do some things that we will not be able to change. But there are core values that should be paramount," explained the actor. To the question, what is the value, he replied that "the most important thing is life and health."
In addition, Damincci afraid that someone might start to interfere with the fact that he goes to the gym with towel the colors of the rainbow (so far, however, it would not hurt anyone). I wonder what such loud statements of the actor is not inclined nor demonstrative homophobia of Putin, nor the fact that the Kremlin's puppet in Chechnya, Ramzan Kadyrov, is pursuing homosexuals.
Mockery of Smolensk and Cursed soldiers
By an amazing coincidence, the actors who make a lot of money from Putin, love to laugh at "conspiracy theories" following the theme of the Smolensk disaster. Damincci published in his blog a letter to St. Nicholas with the gift list: "And even asked to film "Smolensk" on Blu-Ray and guide "what is gay"".
Maciej Stuhr at the ceremony of Polish film awards, in turn, decided to laugh at who fought against the Soviet occupation of Cursed soldiers. "I want to be correctly understood. The actors of the second plan is not some army Pro… lost the actors. (…) Sorry, I wanted to be serious, and you hear the plane explosion… of laughter."
Polish actor in the Russian form
Paul DeLong (Paweł Deląg) made some noise by posting to Facebook your photo in Russian military uniform. The actor dismisses allegations that he is Putin's regime, but regularly speaks on the topic of politics and Polish-Russian relations. In the text of 2015 on the portal Newseria Lifestyle you can read the following: "DeLong admits that he is already settled in Russia: bought an apartment, made friends. (…) He believes that between the Polish and Russian people should not stand up distrust and hatred in Polish-Russian relations should seek a compromise, and Poland and Russia should support cultural and economic exchange. "The poles and the Russians — it's just people who actually want to live, get a life, earn money"".
In turn, the Fox portal Tomasz (Tomasz Lis) NaTemat.pl wrote of him: "As explained by DeLong, Russians "believe that their country can provide only one person". In addition, they believe that Putin lifted the country from knees. (…) "It may be wise to respect their choice?" — asks the rhetorical question, the actor, at the same time emphasizing that he does not accept the aggression. "But if we all just protest, no dialogue between Poland and Russia will not" — he adds".
Daniel Olbrychski (Daniel Olbrychski) a few years ago boasted that he was called in Warsaw. He was proud that he had met with Putin, who treated him very warmly and presented the award. Later, after the invasion of Russia in the Crimea, Olbrychski refused performances in the Moscow theatre (becoming, perhaps, the only exception on the background of their Polish colleagues). "It is a pity, but there was no other way", — he explained. Meanwhile, in 2014, he appeared on Putin's propaganda channel in the role of decoration program "In our time" and its special issue dedicated to the International women's day.
Comments
comments