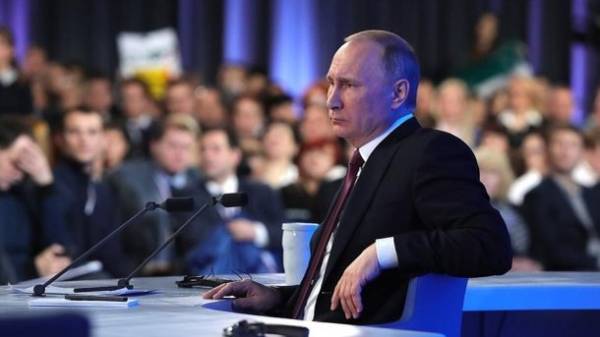 In Russia ended with the "Straight line" with Russian President Vladimir Putin, during which among the many topics people were interested in the Ukrainian question.
Crimea is the problem
The Russian leader called the occupied Crimea one of the problems, because of which Western countries imposed sanctions against Russia.
"It would not be the Crimea, there would be other problems – would come up with something else. I think it's to deter Russia. So it is always and served by a policy of containment of Russia", – he said.
"Farewell, unwashed Russia"
The President of the Russian Federation decided to join the "literary battle" with his Ukrainian counterpart, answering the statement about "unwashed Russia" poems of Lermontov.
"This poem doesn't end therefore, there is a second part. It reads: "it may Be that the wall of the Caucasus will hide from your pashas, from their all-seeing eyes, from their all-hearing ears." Lermontov was a progressive man, he wanted to improve the domestic political situation in Russia, it choked the atmosphere that prevailed at that time in Russia – and he talked about it directly," – said Putin.
Call from Kiev
The "Straight line" phoned from Kiev, who asked Putin about why the Russian TV channels "to smear with one paint" supporters of Bandera and Shukhevych and those who honor the memory of the grandfathers and goes to the "Immortal regiment".
The Russian leader said, "thank You very much for your position, that you cherish our common history. You are now told about the participation in the action "Immortal regiment" — we can see and appreciate. I can't agree that all smear a black paint. We generally don't smear any black paint. But that's such a excessive public, whether that support — we are afraid of just this way to cause some damage and try not to interfere in internal political processes in Ukraine."
Comments
comments