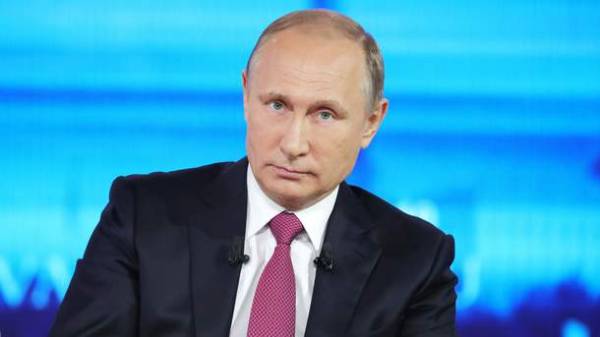 Today held direct line with President of Russia Vladimir Putin, which lasted four hours.
The master of the Kremlin during this time, answered a lot of questions – told how in Russia all is well, and when he reported problems noted that it was "weird".
Direct line with Putin for half a day "paralyzed" Internet social networks were flooded with comments and posts during the Russian leader's speech.
What is necessary to have the presence of absence of conscience,
to 18 years and the harm you will do to reach out to people with a direct line?
— Aunt rose (@Anakoyher) 15 Jun 2017
Mr President, how are your grandchildren struggle with lumps in the ladle? How do you cope with the lumps?
— RIP news (@riarip) 15 Jun 2017
This is not a Straight line,and the factory memes.
— AU pair girl Snezhana (@Snegana_cher) 15 Jun 2017
And when Putin says, we need to build kindergartens. He who asks? Residents of Balashikha near the dump living or the Victor without roads?
— Stalingrad (@StalinGulag) 15 Jun 2017
I don't care what Putin says Oliver stone or "Straight line". I'm only interested in what he will tell the judges in the Hague.
— Slava Rabinovich (@RabinovichSlava) 14 Jun 2017
Putin on the question over whether the crisis: "the recession in the economy has been overcome, we moved on to growth." pic.twitter.com/qL1bFzif0W
— disintegration and disrespect (@VictorKvert2008) 15 Jun 2017
straight lines are not the same pic.twitter.com/tpD0GuQKHb
— Vitaly S. (@vits2014) 15 Jun 2017
A group of people with sad faces and musical instruments.
Ay-I-ay I have said. Such grief!
Zhvanetskiy. MM
pic.twitter.com/7XJmnDgw0D
News Kafka (@Kafka_News) 15 Jun 2017
A straight line 2017:
— My salary is 3500 RUB
— Can not be
— We have nowhere to live
— Hmm, strange
— I get medication
— It is strange to hear
— BuzzFeed Russia (@BuzzFeedRU) 15 Jun 2017
Again, Putin didn't work. Lermontov in 1841 was killed in a duel with Martynov. And "unwashed" is the 30th. Literary critic. #Premarine
Andrei Sklyarov (@nagletssklyarov) 15 Jun 2017
Poroshenko once quoted Lermontov, a Russian burns and burns until now.
Gray Cardinal (@slevo4kin) 15 Jun 2017
You know? pic.twitter.com/C6gVawrvSI
— Lentic (@oldLentach) 15 Jun 2017
With a tweet that Putin is unable to answer the questions unrehearsed.
Without rehearsal, it turns out: pic.twitter.com/GfcwaOIsuw
— Houston, we have p (@sitcom7) 14 Jun 2017
— Vladimir Vladimirovich, postmen get 3600 per month
I need to check on the postman! And put the scum unhappy!
— Stalingrad (@StalinGulag) 15 Jun 2017
The sanctions again for us pic.twitter.com/4qEkLSMdYm
— Lentic (@oldLentach) 15 Jun 2017
Girl dying of cancer, and Putin her broadcasts about the problems of medicine in the United States and Europe, and at the end of "get well". Well, you stay there.#premarine
— Lilia Fadeeva (@Veineleissa) 15 Jun 2017
The results: there are no roads, people live in barracks, medicine and housing in the ass.
Conclusion: we will build more icebreakers and train the army in Syria.
— The fifth Column (@5th_kolonna) 15 Jun 2017
What is your profession? pic.twitter.com/gwuKEjZeNZ
— Lentic (@oldLentach) 15 Jun 2017
Before there were children of Lieutenant Schmidt, and soon to be grandchildren of President Putin pic.twitter.com/0su2xhjG0o
— Foreign Rossi (@Fake_MIDRF) 15 Jun 2017
National the Saga of the size of the bottom pic.twitter.com/nwEo5bIdtc
— Victor Sorvali (@sorval) 15 Jun 2017
Everything I said to Putin for 4 hours on one картинкеhttps://t.co/yz55S6lqDT pic.twitter.com/rHvMtrtog5
— Lentic (@oldLentach) 15 Jun 2017
Briefly about the results of direct line with Putin: the RTS Index -3.319%, the MICEX Index -2.801%.
Chef of War (@noliquid) 15 Jun 2017
If you are unable to ask a question to President Putin, do not worry – you have a whole life ahead of you.
——
A good joke (don't know author)
— Alexander Vinokurov (@Vinokurov12) 15 Jun 2017
In a straight line. Briefly. pic.twitter.com/0IDvRjhsw0
The thought of Perzident (@VVP2_0) 15 Jun 2017
So we are there weapons of testim, not the people of Syria to defend? pic.twitter.com/OO8eX4QQhl
— Lentic (@oldLentach) 15 Jun 2017
Have shutaka! About the blue uniforms, hehe, well, you understand, right? Blue… hihi… uniforms! Hehe. Blue.
— Sergey D (@sd0107) 15 Jun 2017
Garapko look, there is finally pic.twitter.com/WWaDG8LyW3
— Lentic (@oldLentach) 15 Jun 2017
Putin spoke about the benefits of sanctions: "We had to turn the brain" pic.twitter.com/g5pXExYddx
The thought of Perzident (@VVP2_0) 15 Jun 2017
People's attention was attracted by what live missed a lot uncomfortable for the leader of the Russian Federation of the questions that flashed on the screen, but they are not voiced.
When in a straight line something has gone very crooked pic.twitter.com/h38M2OrqfM
— Peskov mustache (@Sandy_mustache) 15 Jun 2017
They've overdone it this time with a Straight line. pic.twitter.com/89Epajboel
— Khodorkovsky, Mikhail (@mich261213) 15 Jun 2017
AAAAAAAAAAAAAAA!!!
Someone will be fired from TV! pic.twitter.com/xGUmJrKiSN
— Sarcastic news (@_U_R_I_c) 15 Jun 2017
Th there Perm? pic.twitter.com/xBgVZ1VREr
— #MDK (mudakoff) 15 Jun 2017
What the hell?! pic.twitter.com/eZvB0CZhIk
— Dmitry V. Masalsky (@DVM911) 15 Jun 2017
"We have an average wage 624 $/month."pic.twitter.com/OP3GMDeorL
— Abram Ivanov (@mumm_twit) 15 Jun 2017
_(ツ)_/ pic.twitter.com/rlWdJuoh5p
— Lentic (@oldLentach) 15 Jun 2017
My question pic.twitter.com/5EU0YcxLoX
— Donald trump (@DonaldTrumpRF) 15 Jun 2017
The recession is over, wheat-rye yields, the sanctions are a gift, Russophobes our partners, the money is allocated-you're lying, thanks to the villagers pic.twitter.com/HJQViu0D0M
— (@OraclePigFuntik) 15 Jun 2017
And the laurels of Adolf Aleyzovich.#Premarine pic.twitter.com/BjYlPCbDhZ
— Catch up! Е7Ы09 (@mix_voronezh) 15 Jun 2017
Recall that during the direct line of Putin for about 15 minutes talking about Ukraine.
Comments
comments