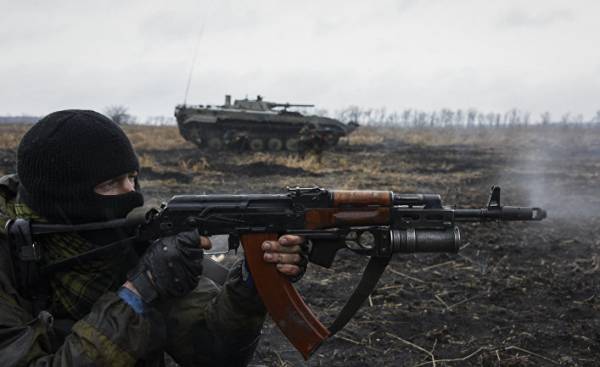 Vladimir Putin thought that can capture a foreign territory, without endangering their power at home, and he was right. But what would happen if the United States will violate these calculations, raising the cost of Russian aggression in Ukraine?
President trump will soon be a chance to check it out, when it will receive recommendations from the state Department and the Pentagon to sell Ukraine lethal weapons for self defense, for example, anti-tank missiles Javelin. These weapons will help Ukrainians to resist Russian weapons and would complicate mediation forces Mr Putin's further advance to the Eastern Ukrainian provinces, which Russia invaded in 2014.
The President of Ukraine Petro Poroshenko has long wanted to obtain such assistance. But Barack Obama has refused, citing the fact that the supply of lethal weapons will lead to escalation of the conflict; it is Ukraine supplied only non-lethal equipment such as radar short-range and night vision binoculars. This did not prevent Mr. Putin to bring the conflict to escalation, violating the Minsk agreement on ceasefire, signed by John Kerry (John Kerry).
Strongholds of the separatists, Russia announced the Donetsk and Lugansk, as well as increased its forces in the occupied zones. Kurt Volker (Kurt Volker), US special representative for talks with Ukraine, said last week of "Freedom" radio station that "there are more Russian tanks than in the whole of Western Europe." In addition, in the summer of this year Russia plans to conduct exercises in Belarus on the front line with NATO, they must participate 100 thousand soldiers.
As President, Mr. trump was not a puppet in the hands of Putin, contrary to what his critics say in America. He supported the deployment of NATO troops in Poland and the Baltic States. Vice-President Mike Pence (Mike Pence) on Monday, July 31, visited in Estonia and confirmed that the U.S. "always" will support their Baltic allies, and on Tuesday, August 1, he said in Tbilisi that the USA "strongly condemn the Russian occupation of Georgian territory".
Now Mr. trump has a chance to show that he is not a shadow of Obama, and force Mr. Putin to pay attention to it thanks to the help of Ukraine, which proved its willingness to fight for independence. The Russian invasion of Ukraine was worth the 10 thousand lives, and more than two million civilians have been forced to leave their homes and relocate. Poroshenko invested in the modernization of the Ukrainian armed forces, has approved a military exercise and quietly build relationships with countries such as Poland and Lithuania.
Opponents of the supply of lethal weapons argue that Putin in any case will be able to repel any attempts of Ukraine, but why is he still not done? Russia, if desired, could occupy the whole of Ukraine, at least for some time, but she feared political and military losses in this case. The purpose of the supply of lethal weapons is to raise the price Putin pays for his imperialism until he withdraws or does not agree to the ceasefire in accordance with Minsk agreements.
Putin began his attack, when Kiev's military to protect its Eastern border, but the Pro-Russian militias were forced to slow down, when Ukrainians organized and as a result of their actions of the separatists began to incur losses. Russia does not want to until the presidential election next year, came home dead soldiers.
Helping the Ukrainian defence will also serve as a warning Mr. Putin that the President trump wants to negotiate with Russia from a position of strength. This could improve the US position in Syria, where Mr. trump has been too long accepted the dominance of Russia and Iran after the defeat of the "Islamic state" (declared a terrorist organization and banned in Russia — approx. ed.). Mr Putin took the position of President Obama, having concluded that the Americans have shown weakness and will never strike back. Deliveries of lethal weapons to Ukraine will show to the Kremlin that the time has already passed.
Comments
comments