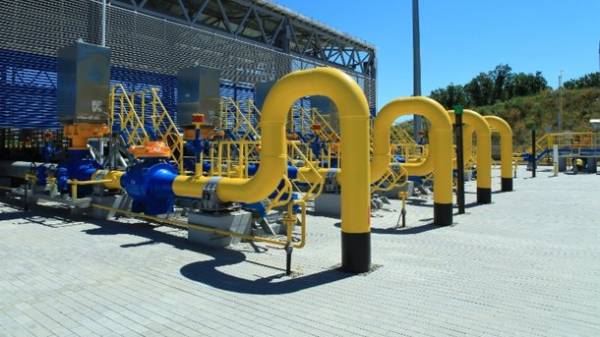 Kyiv economic court decided to collect 79,877 million UAH of dividends JSC "Gaztranzit" (Kiev, partly owned by Russian Gazprom) in the framework of the enforcement of PJSC "Gazprom" (Russia) fine of the Antimonopoly Committee of Ukraine. A decision of the court of June 6 published in the state register.
"To foreclose on cash in the amount 79,877 million UAH (dividends from the net profit of PJSC "Gaztranzit", part of shares belong to Gazprom) located at PJSC "Gaztranzit" in order to carry out the order of Economic court of Kiev dated March 17 case No. 910/18299/16 for the recovery of PJSC "Gazprom", – the document says.
"Gazprom" and "Naftogaz" owns 40,2174% of shares of "Gaztranzit", 19,5652% of the shares of the Turkish company Turusgas.
As reported, the Ministry of justice of Ukraine actively works to find assets of OAO "Gazprom" in the territory of Ukraine for their confiscation according to the court.
In turn, as said managing partner of law firm "Avellum LF" Mykola Stetsenko, if "Gazprom" will refuse to meet their financial obligations, in particular payment of "Naftogaz" overpayment for the gas supplied, you will need to look for and arrest his assets around the world. "But enough of them. This may be the same gas of "Gazprom", which goes through the territory of Ukraine".
We will remind, in February 2016, the Antimonopoly Committee of Ukraine (AMCU) has decided to impose on the Russian JSC Gazprom a fine of at 85.9 billion hryvnia (about 3.2 billion U.S. dollars) for violations of legislation on protection of economic competition. "Gazprom" has passed all the courts, but the courts upheld the consideration of the complaint by a Russian company.
Subsequently, the AMC had over 100% interest on the amount of the fine of OJSC "Gazprom" in the $ 85,966 billion.
16 may 2017, the Supreme economic court of Ukraine dismissed the cassation of OJSC "Gazprom" the decision on collecting from the Russian company to the State budget of Ukraine the amount imposed by the decision of the Antimonopoly Committee fines and penalties in total amount of almost 172 billion, or approximately 6.9 billion dollars.
Comments
comments