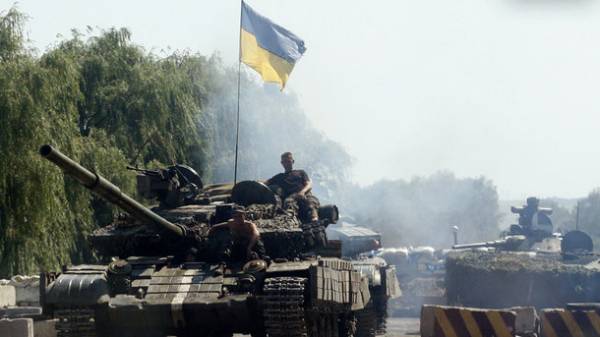 If Ukraine declares a state of war with Russia, it will untie the hands of Putin and will allow the Kremlin to conduct large-scale offensive in Ukraine. Comments about this "Today" said the MP from NF, member of the working group on elaboration of the bill on the reintegration of Donbass Dmitry Tymchuk.
According to him, out of all the critics that were addressed to certain provisions of the bill, you can select one noteworthy message.
"Some military experts say that what is proposed for reformatting and the creation of operational Headquarters (which would be governed by the President and comprised of the SBU, Netpolice, APU and others – Ed.) already enshrined in the law on defense of Ukraine. Indeed, the defence act stipulates the chief of staff – in fact, it is the operational Headquarters. But what is the fundamental difference ? The law on defence and the General headquarters act as an element of strategic management of the APU. And we're not talking about some strategic operations, even tactical level is not. We have the tactical actions", – says Tymchuk.
In addition, as explained by the MP, the whole of the defence act is based on the Declaration of war, imposition of martial law in Ukraine or in certain areas, conducting mobilization, etc. And at the same time the President submits to the Parliament an idea about the Declaration of martial status.
"Not martial law as a legal regime and a state of war. Now the war we are unable to declare, as if someone did not want. If we do this, Russia will make the surprised eyes and say, "We do not have any relation to the Donbass, and the us that Ukraine declared war". Accordingly, we untie the hands of Putin, he will be able to conduct large-scale offensive under the pretext of "it was not I who declared war, and Ukraine". If someone thinks that his charisma will "Iskander" stop, I doubt it. That's why we should avoid these all formulations to develop a format that would allow the President, chief of staff to safely use a Mat in this operation without regard to the anti-terrorist centre", – said the MP.
Yesterday, several members of BPP, which are part of the working group for writing a draft law on the reintegration of Donbass said that the full bill yet, is the concept of the national security Council, on the basis of which to build the law. According to them, the return of Petro Poroshenko from Washington could be held the meeting of the Council, which will approve the final version of the bill. In the Verkhovna Rada can vote on 11-14 July.
Comments
comments