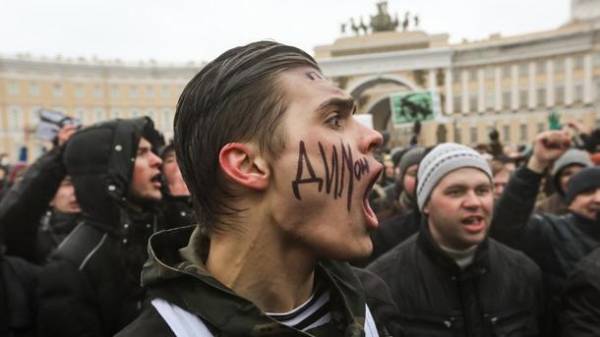 Twenty-two student-ecologist Stepan Weboc launched its own YouTube channel to discuss their point of view on events in Russia. Some of his videos discusses the politics of the country, and some of his hometown Ramenskom. Capable, technically savvy and politically active Weboc that is not part of the Moscow circle of liberals is exactly the type of citizen, born in the early 2000s, which scares the Kremlin. This writes the American edition Los Angeles Times, reports ZN.ua.
The newspaper reminds that on March 26 the Russian youth have left EN masse to protest against corruption. But today, Navalny urged his supporters to beat the spring record. Young people aged 18 to 22 years have become a new demographic group in Russia, which took the Kremlin by surprise. Russian journalist Vadim Orekhanov explained to the American edition of that after the March protests, the Kremlin realized that its propaganda on state television and the media reached a new generation of Russians who are watching the news on YouTube and social networks than on TV.
Navalny also talks with young people through online resources. Orekhanov stressed that the opposition is not trying to lecture his audience, he says frankly. And this, according to the Russian journalist, is his success. "News in the traditional sense is an outdated concept for this generation. YouTube has become what the television was for the older," added Oregano.
The Kremlin responded to this clumsy attempts to reduce the activity of young people online through the bills that proposed to prohibit use of the network to 14. But such methods of intimidation don't work only as an incentive to be active.
Earlier it was reported that in Russia, the detention of the participants of the rally against corruption.
Comments
comments