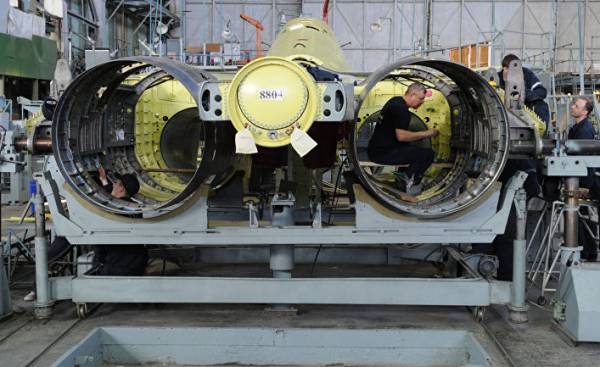 Russia hopes to modernize its fleet of multi-role fighters su-35S Sukhoi company, using the experience of fighting in Syria.
Almost all new aircraft, even with excellent technical execution, during the actual fighting of high intensity found small but serious flaws. In this case, the Russian air force are trying to address minor issues identified in the harsh conditions of the Syrian war.
"Aircraft this year will be finalized taking into account the Syrian experience," said June 5, Deputy defense Minister Yuri Borisov TASS news Agency during a visit to Komsomolsk-on-Amur aviation plant named after Gagarin.
As reported by the Agency, one of the main modifications may be the set of nets in the intakes of the su-35, which will prevent the ingress there of foreign objects and debris.
In Syria the plane fall small stones, and this can seriously damage the engines AL-41F1S production enterprise "Saturn". Unlike most Western aircraft, Russian, and before them the Soviet machine design with mesh air intakes, which allow them to take off and landing on poorly equipped airfields.
It is not surprising that the Russian air force found a small weaknesses in the su-35 and other aircraft operating in Syria. In fact, such shortcomings are typical for all types of aircraft in all the air force.
"For the new aircraft there is no better stress test than the long flights," said The National Interest researcher, Center for naval analysis (Center for Naval Analyses) Mike Coffman (Mike Kofman), specializing in the Russian armed forces. "Steps away from the main bases increase the burden on technicians and repairmen", — he said.
In addition to the meshes for the air intakes on the su-35 can make certain changes in software and avionics. First of all it concerns the systems responsible for the application of air strikes on ground targets.
"As far as I know, there were only minor problems encountered in the course of intense fighting during the war," — said The National Interest, senior researcher, Center for comprehensive European and international studies at the Higher school of Economics Vasily Kashin.
"Since these aircraft are used for attacking ground targets, and is used as precision-guided weapons and unguided bombs, there can be made some improvements software and systems for attacking ground targets", — said Cashin.
In the Russian air force more or less satisfied with the su-35S, and therefore do not develop emergency plans for their upgrading and installing new systems, such as radar with active phased antenna array.
"Nevis will not be there — said Kashin. — They have a very powerful passive antenna arrays with electronic scanning, and this is their great advantage".
But the Russian air force is very much needed sighting of a container-type system Sniper production LITENING or Lockheed Martin of Northrop Grumman. Today, only the su-34 has a decent built-in sighting system "sycamore" with electro-optical/infrared guidance. Pilots of su-30CM and su-35 has to rely on the radar when aiming weapons at ground targets, because they have no suitable container sighting systems.
"The absence of containers shall be considered a serious drawback of the Russian air force," said Kashin.
When plans for joint development of such systems with France failed, the Russians began to create national targeting system container type. Some time they relied on licensed production of Thales Damocles suspension.
"There is a programme for the development of container with equipment for intelligence and targeting purposes, which began before Syria, but so far it has not given any results, — said Cashin. — As far as I know, before sanctions were plans of cooperation with France. Then plans changed, and Russian pendants are still being tested.
It is not clear when the sighting system of container domestic production will be taken on Board.
"Maybe soon, but maybe it will be another endless Saga," said Kashin.
Comments
comments