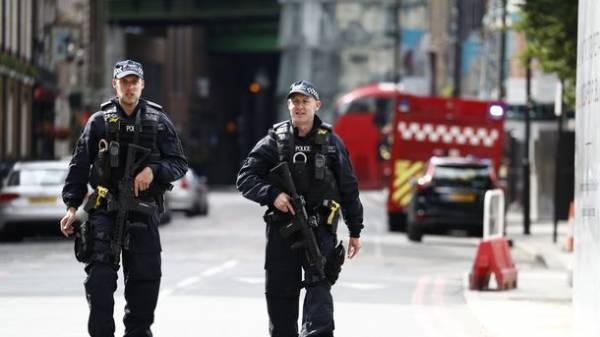 Police in London made about 50 shots on the terrorists who carried out the attack late yesterday evening in the center of the British capital.
As Radio Liberty reports, this was stated by the representative of Scotland Yard.
According to him, the shooting of criminals led eight police officers. They did about 50 shots at the terrorists, killing all three. When shooting was accidentally wounded one passer-by, his wounds are not heavy, said a police spokesman.
Confirmed that all three terrorists were carrying "suicide vests", but they were not explosives. It is obvious that the attackers wanted to sow as much panic and confusion.
It confirmed the death of seven people, 48 were injured, many of them remain in hospital, some with "extremely serious injuries".
Experts say that 50 shots by the police, who are trained to hit targets with the first shot, is an impressive figure. Such intensive shooting, probably due to the fact that the police feared that the wounded terrorists detonated the explosives.
As for the possible organizers or involved in planning terrorist attacks, a police spokesman said that so far there is no evidence of involvement in the attack anyone else besides the three killed.
As reported, late on the night of 3 June in the centre of the British capital at London bridge, three of the attackers on the van knocked down pedestrians, some of them died. After that, the men left the car and attacked with knives at people. All three terrorists were eliminated. The victims were seven people, another 48 were injured.
On suspicion of involvement in the attack were arrested 12 people.
Comments
comments