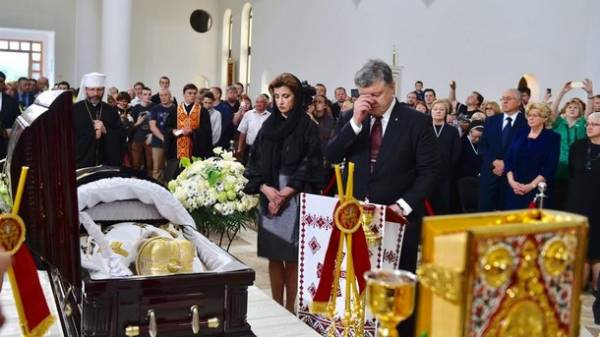 President Petro Poroshenko with his wife Maryna Poroshenko said goodbye to former head of the UGCC, cardinal Lubomyr Husar. Farewell ceremony with his Beatitude Lubomyr took place in the Patriarchal Cathedral of the Resurrection of Christ in Kyiv, the press service of the head of state.
The couple commemorated the blessed moment of silence. The President also expressed his condolences to the relatives of the cardinal.
After the farewell ceremony, the President drew attention to the fact that the Cathedral today was a large number of people to say goodbye to an outstanding Ukrainian, a unique personality, a great Christian.
"For each he found a totally unique word. Many hours of conversations and meetings with him were charged solid optimism. He is a true descendant of Andrei Sheptytsky, Josyf Slipyj and played an extremely important role not only for the Ukrainian Greek-Catholic Church, not only for our country but for the entire world of Ukrainians", – said Poroshenko.
According to the Head of state, namely his Beatitude United Ukraine, provided its unity of word, thought, and prayer.
"His word is in fact played an extremely important role in the protection of Ukrainian will of Ukrainian freedom, territorial integrity and sovereignty of the Ukrainian", – said the President.
"I firmly believe that now, when he went to the Lord, prayer for Ukraine, for Ukrainian people, for our future will be even stronger. Eternal memory and rest in peace his Beatitude Lubomyr," – said Petro Poroshenko.
Former head of the UGCC Lubomyr Husar died may 31. To the Cathedral on the banks of the Dnieper in the morning continue to come many faithful and caring people to pay their last respects to his Beatitude. Informed with the Holy father said goodbye in Lviv.
His Beatitude Lubomyr will be buried in the crypt of the Patriarchal Cathedral on 5 June.
Comments
comments