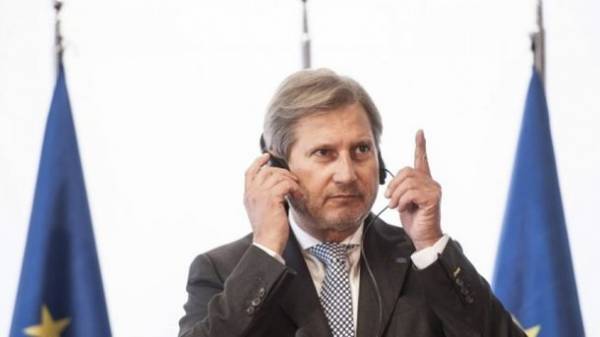 Brussels is concerned about the politicization of the issue of the appointment of members of the Board of external control for the independent assessment (audit) the effectiveness of National anti-corruption Bureau of Ukraine (NABU) and the introduction of electronic Declaration for members of public organizations and members of the Supervisory Board from among non-residents. This was stated by the Commissioner of the European Union on issues of European politicians of the neighbourhood and expansion Johannes Khan.
"Recent changes to the law on e-Declaration, which spread its requirements on members of non-governmental organizations and members of the Supervisory boards of the non-resident is a kind of error. Glad to hear that the President wants to fix it," said Khan during the launch of the project "anti-corruption initiative of the EU" in Kyiv on Thursday, June 1.
Khan noted that it is also necessary in the near future to appoint the remaining two auditors NABOO, while respecting existing laws.
"NABOO is one of the success stories in the Ukrainian fight against corruption, but we are concerned that its independence and the effectiveness of the very often questioned. At the moment, we are concerned that the appointment of the three auditors NABU becomes politicized," said the Commissioner.
We will remind, today, on June 1, he arrived in Ukraine, EU Commissioner for European neighbourhood policy and enlargement Johannes Hahn – he plans to meet with President of Ukraine Petro Poroshenko and Prime Minister Vladimir Groisman.
Comments
comments