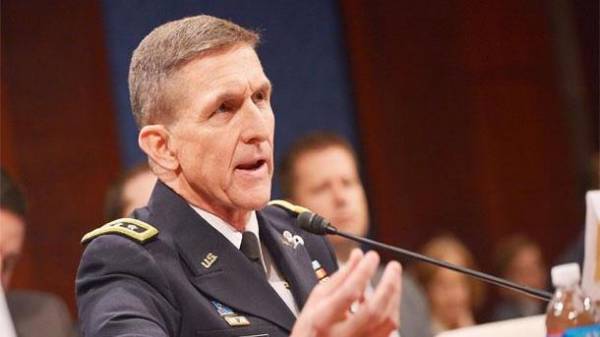 Michael Flynn resigned from the post of assistant to the President Donald trump on national security. This information was confirmed in the White house. Initially, this statement was made by the broadcaster CNN, citing sources.
A message about Flynn's resignation came after, as the Washington Post and the Associated Press Agency (AP) reported that the U.S. justice Department issued a warning to the White house that Flynn put himself in a compromising position because of the contact with the Kremlin.
In his resignation Flynn admitted that inadvertently was given the Vice-President of the United States Michael Pence and other members of the White house a partial account of the conversation with the Russian Ambassador in Washington Sergei Kislyak.
"Unfortunately, because of the rapid course of events I inadvertently gave the elected Vice-President of the United States and others (representatives of the White house. – Ed.) incomplete information relating to my telephone conversation with the Russian Ambassador. I bring sincere apologies to the President and Vice-President, and they have accepted them," – said in the message released by the press service of the White house.
The statement also notes that trump has accepted the resignation of Flynn and appointed Lieutenant-General in the resignation of Keith Kellogg's acting assistant to the President for national security. Kellogg had served in the army from 1967 to 2003, has twice been seconded to Vietnam during the war. He served in the office of the joint chiefs of staff U.S. army, and more recently was a military adviser to trump.
According to CNN, the successor to Flynn may be a former Director of the Central intelligence Agency (CIA) David Petraeus. The broadcaster said that in the near future Petraeus will visit the White house.
Earlier, The Washington Post reported that Flynn in December 2016 allegedly discussed with the Russian Ambassador in Washington Sergei Kislyak anti-Russian sanctions over the phone.
The publication claimed that the White house, some felt the negotiations of the future assistant to the President and the Russian Ambassador inappropriate and potentially unlawful signal to Moscow that sanctions may be weakened.
Earlier also it became known that trump is "assessing the situation" around possible discussion topics Flynn sanctions regime against Moscow Kislyak. Meanwhile, according to a senior adviser of the head of state, Kellyann Conway, President of "full trust" of Flynn.
The Kremlin has denied The Washington Post. Press Secretary of the President Dmitry Peskov said that he understood that "some conversations (Flynn and Kislyak. – Ed.) there was a" but "in the rest of the information is wrong".
Comments
comments