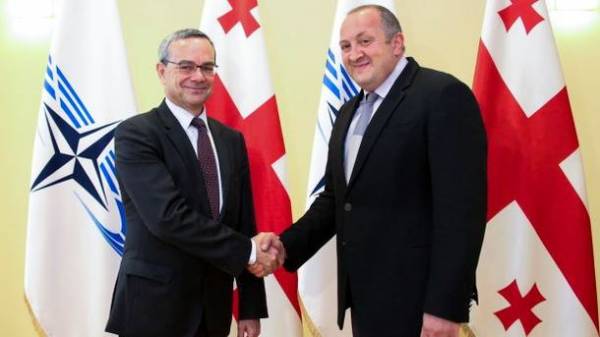 Georgia appealed to NATO for help in the development of constitutional amendments to improve the national security system. This was stated by the head of the country Giorgi Margvelashvili during a meeting with President of the NATO PA Paolo alli, according 112.ua with reference to the press service of the President of Georgia.
It is noted that the Georgian leader hopes that NATO will connect to this issue the experts.
"The President has asked Allie to connect NATO experts to jointly develop recommendations for implementation of constitutional amendments to improve the architecture of the national security of the country", – the press service of the President of Georgia.
In turn, Ali spoke about possible membership of Georgia in NATO in the future.
"NATO strongly supports the aspirations of Georgia to integrate into Euro-Atlantic structures, which is holding in Tbilisi of the parliamentary session, and talked about the steps that can be done in the direction of Georgia's membership in NATO. This is important not only for Georgia and Europe, but for the whole world, because we must ensure the territorial integrity, respect of international law and what is happening here, it is very important for NATO, Europe and, I think, for many other countries," – said the President of the NATO PA.
However, he expressed firm support for Georgia and said that rarely, when the meeting of the parliamentary Assembly of the Alliance held in the country, is not a member of NATO.
"Georgia is among this rare exception, and it's not just a gesture, but a significant political move on the part of NATO," said Allie.
As previously reported, Georgia has accused Russia of encroaching on its sovereignty. Dissatisfaction of the Georgian authorities was connected with the visit of the foreign Minister of the Russian Federation Sergey Lavrov in the occupied Abkhazia.
Comments
comments