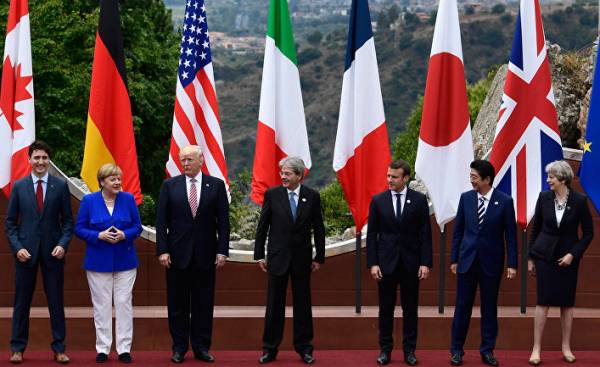 The G7 has linked sanctions against Russia with the implementation of Moscow's commitments under the Minsk agreements. And ready to cooperate with Russia where it is in the interests of "big seven".
The leaders of the countries "the big seven" at the summit in the Italian Taormina did not rule out the possibility of imposing new sanctions against Russia if Moscow will not contribute to the final resolution of the crisis in Ukraine. This is stated in the foreign policy section of the final communiqué, adopted on may 27.
The leaders of the G7, in particular, noted "the responsibility of Russia for the conflict" and the role it should play for "the restoration of peace and stability." As stated in the communiqué, the "big seven" has consistently maintained its position of support "of Ukraine's independence, its territorial integrity and sovereignty" and condemned "the illegal annexation of Crimea" and the non-recognition of his status within the Russian Federation. The duration of the sanctions regime against Russia clearly linked to Moscow's implementation of its commitments under the Minsk agreements.
The document notes that the G7 countries, despite existing differences with Moscow ready to cooperate with Russia in the "settlement of regional crises and common challenges", but only when such cooperation is in the interests of the members of the "big seven". In particular, speech can go about ending the war in Syria. Noting that this "tragic crisis" can only be a political solution that the leaders of the G7 have indicated that countries with influence on the regime of President Bashar al-Assad — Russia and Iran — must use these mechanisms. It is necessary to "provide a real cease-fire, to stop the use of chemical weapons" and to provide safe, immediate and unhindered access of humanitarian assistance to all those in need. The document also expressed hope that the agreements reached in Astana can contribute to de-escalation of violence in Syria.
Comments
comments