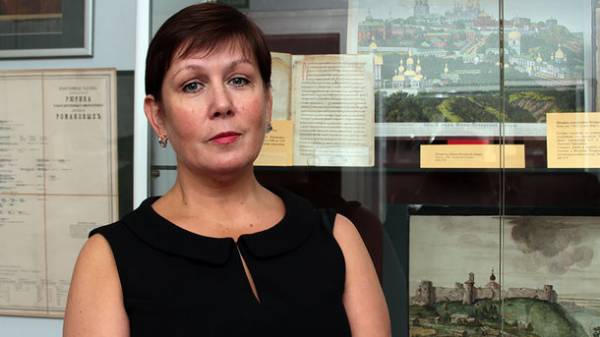 Ex-Director of the library of Ukrainian literature in Moscow, Natalia Sharina, during the escort broke his spine, according to 112.ua with reference to the "OVD-info".
Injured ex-Director received 29 October 2015. Then she was transported from the police Department in the detention center. "In the paddy wagon was hard, whether wood, or metal seat. The driver did not slow down on the lying police paddy wagon jolted, and Sharina hit back" – this defenders the lawyer said Sharina Evgeny Smirnov.
The defense admitted the medical documents about the health Sharina, which States that she is suffering from the effects of compression fractures of the spine.
May 25, in the Meshchansky district court completed the judicial investigation of the case Sharina accused of extremism and embezzlement. The punishment for her prosecutors will ask on Monday, may 29.
Recall that in October 2015, in the Library of Ukrainian literature in Moscow were searched, and then its Director Natalia Sharina was arrested. She seized 150 books and pamphlets. According to the Investigative Committee in relation to Sharina criminal case under article 282 of the Russian Criminal code (incitement of national hatred and enmity, and also humiliation of human dignity). The reason for the initiation of the case, according to the RF IC, was spread among the visitors of the library edition of Dmytro Korchynskyi, which was recognized by the court as extremist and prohibited for use. Later investigation has charged her with embezzlement. The library Director stated that his guilt does not recognize.
Comments
comments