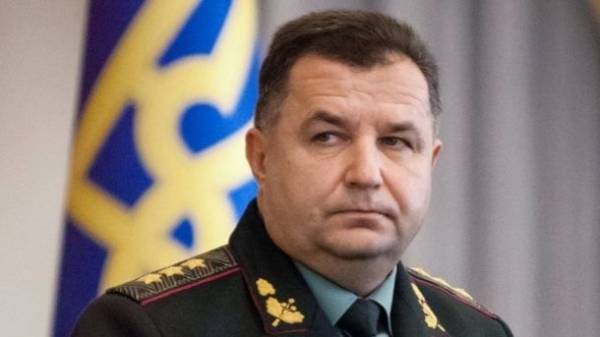 Defense Minister Stepan Poltorak has submitted an electronic Declaration of their income and ownership of assets for the year 2016, reports Interfax-Ukraine.
According to the submitted Declaration, the Minister last year earned 539 thousand hryvnias, and also got 86 thousand hryvnias in the form of fees or other payment on civil transactions, from the Kharkiv city Council. In addition, he received interest on the Deposit at the Bank in the amount of 8 514 thousand UAH. The Minister also has cash in the amount of 335 thousand hryvnias and 42 thousand dollars and Bank deposits in the "Oshchadbank" in the amount of 606 thousand hryvnias and 20 thousand dollars, and also in "Ukreximbank" for the sum of 50 thousand hryvnias.
It turns out that Poltorak was not their property, but rents a room in the hotel complex at the Centre to ensure performance of the Ministry of defence and the General staff of Ukraine area 41,65 sq. m.
As for his wife Irene, she declared the income from the sale of movable property in the amount of 170 thousand UAH from the sale of immovable property is 1,375 million. Also her number the percent of the Eximbank in the amount of 12 thousand UAH 842 and "Oschadbank" in the amount of 12 thousand UAH 966. The wife of a Minister owns cash in the amount of 1.11 million, 73 thousand dollars and keeps Bank accounts in the "Eximbank" – 250 thousand hryvnias and "Oshchadbank" 250 thousand hryvnias.
Inna Poltorak owns a residential house in the Kharkov area of 39.8 square meters and a land area of 941 sqm, which was acquired in 2014, she also acquired November 1, 2016 apartment in Kharkov with an area of 66,7 sq. m for 289 551 thousand UAH.
In addition, the spouse Poltorak 2016 is Mazda 3 2015 release (in 2015, its ownership was Smart Micro 2002 issue), while the Minister of defence, according to e-Declaration, no car.
Comments
comments