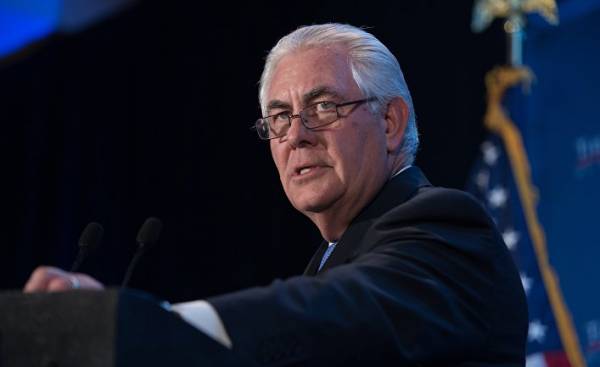 U.S. Secretary of state Rex Tillerson made a strong statement on Russia, condemning Moscow for "the continued hostilities and occupation" of Ukraine. Today these actions of Russia "discrediting our shared vision of a Europe whole, free and at peace", he said during the meeting of the NATO — Ukraine in Brussels on Friday, March 31.
​
Tillerson stressed that three years after the "Russian aggression against Ukraine" that led to the annexation of the Crimea, "support of Ukraine from the American and NATO remains unwavering". He promised that the US administration will maintain sanctions against Russia as long as Moscow does not correct the actions that led to their adoption, and will oppose any further Russian attempts to redraw Ukraine's borders.
​
Rex Tillerson also urged Russia to fulfil its commitments under the Minsk agreements on the settlement of the war in the East of Ukraine, where, in his words, "led by Russia separatist forces" fighting with the Ukrainian troops. Observers note that the statement Tillerson Russia became more rigid than those hitherto made by the President of the United States Donald trump and members of his administration.
​
Foreign Minister of Ukraine Pavlo Klimkin during a press conference following the meeting in Brussels accused Russia of "creeping annexation" of Donbass.
​
NATO partners are concerned about the possibility that trump will try to improve relations with Russia by supporting the Pro-Western government in Ukraine and NATO countries from the former States of the Eastern bloc.
​
Their anxiety intensified after Tillerson was originally going to skip the NATO meeting scheduled for next week, particularly because of the visit to Russia. Fears of NATO countries, however, weakened after Tillerson agreed to participate in the negotiations, postponed to Friday.
​
Russia's Reaction
​
"The Russian foreign Ministry has expressed bewilderment" in connection with the statements Tillerson about "Russian aggression" in Ukraine. "Maintaining unity in the ranks of multilateral structures, especially such as NATO, which includes so many different States — as far as can be judged, is not easy," — said in comments to the Agency. The authors of the text blamed "the NATO Ministers" spreading "the myth about the Russian threat, the slander about the Russian aggression" and "the spell of the need to confront it collectively".
Comments
comments