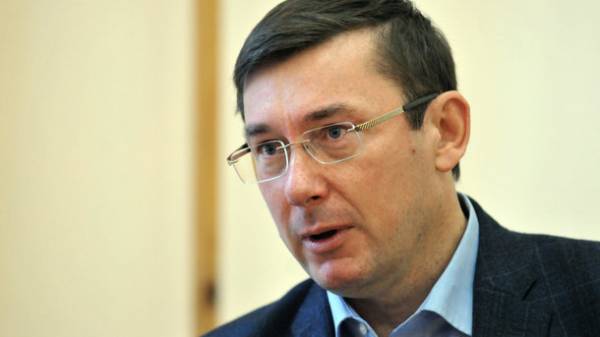 Large-scale operation against the former tax officials of times of Victor Yanukovych was prepared for almost a year, at least eight months was the preparation for their detention.
This was stated by Prosecutor General Yury Lutsenko, reports TSN.
"We carefully gathered evidence, we have the conclusion of the examination, we have on hand there are lots of documents, and the final decision was to detain several dozen senior officials of the Tax systems in the time of Yanukovich. We managed to prevent the leakage of information. We managed to make everything coordinated, the helicopters we needed to catch to go to court for arrest," – said Lutsenko.
The attorney General added that "the cost of these helicopters is less than 0.2% of the arrested property of the suspects."
"Judges have all the possibilities, if not to arrest them, then at least to determine adequate collateral. Let the man whose house it was found in a bag 3.8 million USD bail of 15 million UAH, it seems to me inappropriate," – said the head of the GPU.
Yuri Lutsenko says that all the 23 suspects will receive indictments, which will be sent to the court. He added that the 32 persons who had held high positions during the reign of Yanukovych, are already in court. 16 ex-officials have already been convicted. "Neither will these," said the Prosecutor General.
"It's not the end of the operation. The helicopters will fly. Perhaps even more than in the day", – assured Yuriy Lutsenko.
As reported, on may 24, in 15 regions of Ukraine, the security forces during a special operation conducted 454 of the search, were detained on 23 current and former head of the tax service.
According to the Minister of internal Affairs of Ukraine Arsen Avakov, as a result of the searches were seized 3.7 kg of gold, 50 kg of silver, 5.5 million dollars in cash, 8 million UAH, 280 million euros, and jewelry.
The special operation was held in the framework of the investigation of the crimes committed by the former leaders and their deputies of the regional offices of the then Ministry of incomes and fees, state tax administrations, which were involved in the organization and functioning of the so-called "tax areas".
As a result of such person from the entourage of former President Viktor Yanukovych and former Minister of income and fees Alexander Klimenko enriched at the expense of the taxpayers almost 96 billion UAH.
Proceedings opened on suspicion of committing criminal offenses under part 1 of article 255, part 2 of article 28, part 2 of article 364 of the Criminal code of Ukraine (participation in a criminal organization and of abuse of official position).
Comments
comments