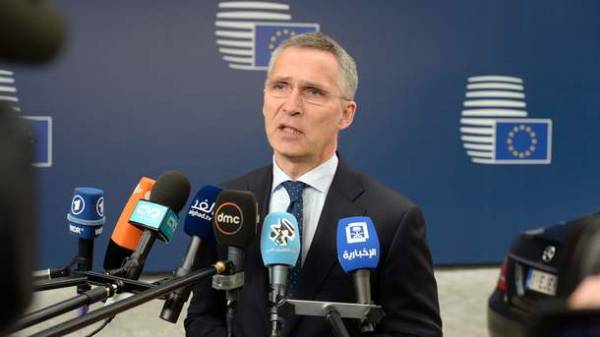 NATO Secretary General Jens Stoltenberg said that the allies at a meeting in which took part the presidents of the United States Donald trump and France Emannuel macron, reaffirmed the political and practical support to Ukraine.
He said this on Thursday in Brussels after a meeting of leaders of the Alliance.
"It was clearly stated by many allies, and the whole Alliance is behind this that we will continue to strengthen our partnership with Ukraine, providing practical and political support. There is also strong support for all efforts to make it possible to perform the Minsk agreement, especially to international observers had the opportunity to carry out their work", – said Stoltenberg.
The NATO Secretary General said that Russia continues to destabilize Eastern Ukraine. "We see that Russia not only wants to invest a lot in defense but to use military force to change borders in Europe. With its aggressive actions against Ukraine, illegal annexation of Crimea and continued to undermine, destabilize Eastern Ukraine, NATO should respond," he said.
Stoltenberg argues that no one in NATO has not thought about the placement of the four battalions in the Baltic States and Poland before Russia annexed Crimea and began to destabilize the East of Ukraine." "What NATO is doing is defensive, proportional response to the actions of Russia. At the same time we are working for dialogue", – said the Secretary General.
Also, according to him, the allies reaffirmed the dual-track approach towards Russia – strong defense, along with meaningful dialogue.
"Allies stand together in order to provoke conflict, but to prevent it and save the world. At the same time we are open for dialogue with Russia to increase transparency and reduce risks", – said the NATO Secretary General.
While Stoltenberg pointed out that NATO is a defensive Alliance and does not seek confrontation with Russia. "Russia is our largest neighbor. At the same time, NATO must ensure reliable deterrence and defence, because that's how we prevent conflict, prevent war – it was the key to the success of NATO since the time we were founded almost 70 years ago," he said.
Comments
comments