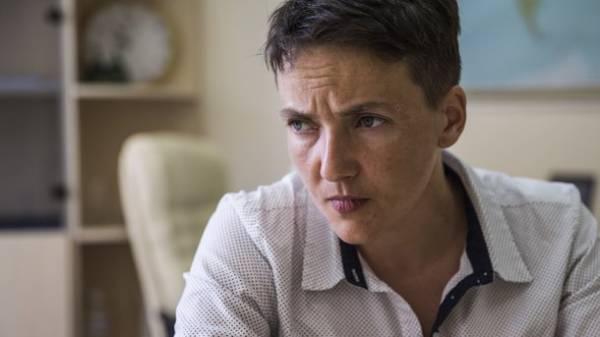 The extra fractional people's Deputy of Ukraine Nadezhda Savchenko is ready to become President of Ukraine. She stated in an interview for "Krytyka Polityczna", – the "Gordon".
"I'm ready to take responsibility for the country and stand as a candidate in the presidential election. In the parliamentary elections will participate my political force. God, it sounds horrific from the mouth of a politician," said former military pilot.
Savchenko, according to her, does not believe in political parties, but hopes that her "fresh" political power "Public-political platform of Hope Savchenko" reboot "sick" the Ukrainian system of power.
"It will help to dismantle unhealthy political system, which was established 25 years ago, to rebuild the state architecture and give people the chance for a comfortable existence within it. It will be a symbiosis of various systems, we will not mindlessly accept or reject any of them", – said the MP.
In 2014, Savchenko was held in the Verkhovna Rada according to the list of "Batkivshchyna". After negotiations in December 2016, with the leaders of the so-called "DNR" Alexander Zakharchenko and "LNR" Igor Plotnitsky in Minsk was expelled from the faction "Batkivshchyna" in the Parliament and withdrew from the Ukrainian delegation to PACE.
26 November 2016 Savchenko stated about the readiness to form a public organization "people's movement" in the future "make it" in the Verkhovna Rada.
On 27 December she presented a public platform RUNE. Savchenko said that this is not a political project.
February 7, 2017 public platform RUNA announced the termination of cooperation with Russia.
13 APR Savchenko has created a new political party "political platform of Hope Savchenko".
The next presidential and parliamentary elections are due in 2019.
Comments
comments