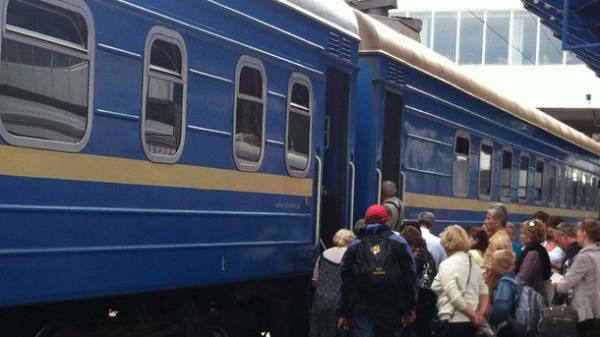 Ukraine plans to discontinue railway passenger traffic with Russia. This is with reference to sources reports, the Russian "Kommersant".
Freight traffic was limited last week by the decision of the Council of national security and defense Council (NSDC) — together with the introduction of sanctions against legal and physical persons of the Russian Federation.
"Ukraine is preparing to discontinue railway passenger communication with Russia roughly from 1 July",— has informed the edition a source close to the government of Ukraine. According to him, the pretext for this decision will be the reluctance of "Russian Railways" (RZD) "to stop passenger transportation in Russia from the zone of hostilities and, in particular, from Donetsk, which violates the sovereignty and territorial integrity of Ukraine" (now from Donetsk in the Russian Taganrog runs the train, the ticket price — 17 rubles, which is about 8 UAH).
Ukrzaliznytsia also said: "Any decision on this matter at the moment pending".
In the Railways also said that he had not received from Ukraine any documents on the termination of passenger service to Russia.
However, according to the interlocutor of the edition, the impending ban confirmed by the former Deputy transport Minister of Ukraine Oleksandr Kava. According to him, "Ukrzaliznytsya" has recorded "the decrease in passenger traffic by rail between Ukraine and Russia more than 60% over the last year." However, even after this significant reduction in passenger traffic has nearly 2 million people a year. In addition, Mr. cava admits: "It is very beneficial for Ukraine transportation, because they are made from the trains of the Ukrainian formation. The price is four times higher than the domestic tariff. And even in spite of incomplete loading of trains, that service is best for "Ukrzaliznytsya".
According to Cava, "as a result of cancellation of passenger rail service will benefit the so-called marshrutochniki — private entrepreneurs engaged in road transport in Russia from the border of Ukrainian cities: Chernihiv, Kharkiv, Sumy". Another potential beneficiary — the Belarusian airline "Belavia", to establish air communication with Russia through Minsk after the ban by the Ukrainian authorities for direct flights in October 2015.
Comments
comments