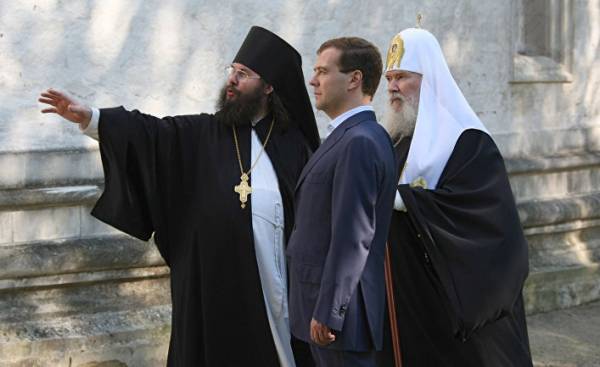 The Governor of new Jerusalem monastery Archimandrite Theophylact called on state Duma deputies to impose a ban on abortion. "Abortion must be murder. This law still need to pay attention, and it needs to be adopted," — said Archimandrite Theophylaktos at the meeting of the state Duma on the protection of Christian values.
Also Archimandrite Theophylact defended the use of physical punishment by parents to children as part of Christian values. "It is unacceptable when it has a traditional upbringing in a Christian family, when the children are equal to parents." Parents forbidding physical punishment of children, "we come into contradiction with Scripture", said the priest.
The USSR in 1920 became the first country in the world that allowed women to have abortions. In the era of Stalin's rule from 1933 to 1955 again acted a ban on abortions, which, however, has led to a significant increase in the number of illegal abortions. In 60-e years the number of abortions peaked at 5.6 million per year. After the collapse of the Soviet Union their number is constantly decreasing. In 2015, recorded 848 thousand abortions, about half of them for medical reasons.
The influence of the Church grows
This is also linked to the increased influence of the Russian Orthodox Church, which has for many years criticized the practice. Many politicians, including Prime Minister Dmitry Medvedev, considered to be close to the Church, which is also reflected in the adoption of several laws with the aim of strengthening the Russian Orthodox Church in Russia.
So, the Church has managed to recover almost all former ecclesiastical buildings, even those that earlier (as in Kaliningrad) is they did not belong. Recently in St. Petersburg held vigorous protests of human rights defenders against the transfer of the Russian Orthodox Church of St. Isaac's Cathedral, which was formerly used as a Museum. Under the pressure of the Church were introduced religious lessons in schools, initiated proceedings against a number of artists because of the incitement to religious hatred, and recently, the organization "Jehovah's Witnesses" (banned in Russia organization — approx. ed.) has been classified as a sect.
If the Church is to "push" the ban on abortion remains to be seen. MPs speak out against this initiative ambiguously. The coordinator of the working group, Dmitry Sablin of the Kremlin party "United Russia" only noted that the expert group will meet to assess legislation and draft legislation "for the support and protection of Christian values".
However in December, the government rejected the demand of the Church to exclude abortion from the list of services provided under mandatory health insurance, although in defense of the initiative was made by the Patriarch Kirill. However, to give up the Orthodox do not intend to. Activists began to collect signatures in support of a ban, thereby trying to increase the pressure. In the past Orthodox activists were seen in other stocks. So, they hosed the critics of the Church with paint or faeces.
Comments
comments