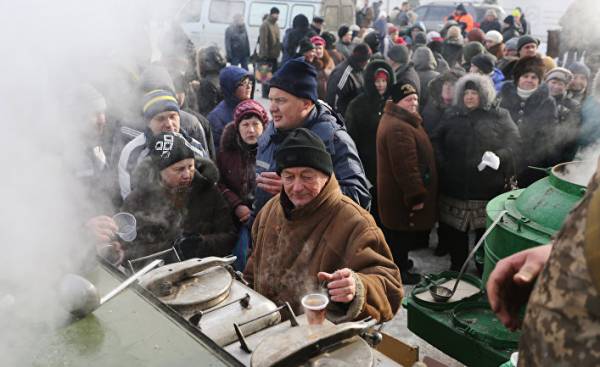 Expressen reporter Diamant salihu (Diamant Salihu) and Hilmarsson photographer Kristoffer (Christoffer Hjalmarsson) tell about events from the place of forgotten European war.
The first part of the report, the second part.
Avdeevka, February 14, afternoon
Basil, 24 years old, have long since ceased to be afraid.

As a soldier of the Ukrainian army, he participated in several fierce battles in Eastern Ukraine — and is convinced that he's actually fighting against Russia.
"It is all about the Russian command, and all the simple separatist soldiers. They have no ideological motivation, they just get money from Russia for that war", — says Vasily.
We are the last inhabited Outpost before the Ukrainian front in the town in the East of Ukraine. Two miles away is the million city Donetsk, which is controlled by the self-proclaimed Donetsk people's Republic.
Soldier Vasily is standing with a gun near the trench. His form is covered with dried clay. He wears a combat vest with many pockets full of ammunition.
"The nearest front line about 600 meters," says Basil, who, for security reasons, do not want to give his name.
The area that it protects, was previously a popular holiday destination with swimming pool and famous restaurant "Royal hunt". Today the building is in ruins, the pool is empty and its bottom stuck a grenade.
Basil became a professional soldier for a year before the war. The last three years he mostly spent at the front near Avdeevka. The most violent battles in which he participated was at the beginning of this February. Soldiers from the East tried to take control of the city, because it is an important railway junction.
"Under the protection of artillery fire, the separatists tried to oust us. They did not succeed", — says Basil.
He pauses. He is proud of the hundreds of soldiers that are in his unit.
"We are strong. You know what to do. We fight as a single mechanism," he says.
Basil describes how artillery shells are constantly exploding nearby. But he wasn't afraid. Afraid he stopped at the very beginning of the war.
"As a professional soldier you should be able to concentrate on their task and to turn my feelings off," he says.
No official data on how many soldiers were killed in Avdeyevka in the last big battle, no. Basil argues that military radio heard that the enemy had killed 80 people. But he doesn't know for sure. "Many bodies they took with them when their troops were retreating".
"Two wounded separatists was captured," he says, "But they died of their wounds on the way to the hospital."
Basil is convinced that Russia is behind the separatist uprising in Eastern Ukraine, although the Russian side all the time denies. But a year ago the German newspaper Bild reported that Russia runs a "shadow government" in the areas in Eastern Ukraine controlled by the rebels, referring to the Protocol of the Russian humanitarian Commission. In addition, in Donetsk, now in the course of the Russian rouble.
As the enemy troops, Basil is convinced that the command consists of Russian soldiers and ordinary soldiers came from the East of Ukraine. The soldiers fight not because of their beliefs, he argues, but simply because they need the money.
Expressen: How do you know?
Basil: the Separatists, whom we took prisoners themselves acknowledged that the Russian Federation pays them a salary. The separatists have no job and they have to fight to feed his family.
— The soldiers on the other side of the front early were your countrymen. As you now look at them, after three years of war?
— It is impossible to remain Ukrainian after three years of war and after so many people died. I think their enemies, — said Vasily.
— To join again is impossible?
— In the future, probably everything is possible, — said Vasily, but his eyes betray that he does not believe in what he says.
None of the warring parties shows no desire to compromise. Both continuously violate the Minsk agreement — a peace Treaty signed in the fall of 2014, and accused each other of prolonging the war.
Basil lights a cigarette. His teeth look have not shelled. For Basil, the war will only end when Ukraine gets back its former territory.
"Donetsk and Luhansk belong to Ukraine. What even was the point in this war with many dead, if we give them our territory?"
Avdeevka, February 15, morning
Pensioners repel each other when aid workers begin handing out cans of sauerkraut and pickles.
They are stuck at the front line to yet another winter of war and are unable to get out.
"We have a week without electricity," says Zina Vlasova, 80 years.
No child is seen bombed-out elementary school "Avdeevka-2".
Instead, the queue is about 30 people, mostly pensioners. Two Ukrainian soldiers that look like not slept for several days, keep order. Both are armed with "Kalashnikovs".
After some time discovers that the meal is over, but this time they were lucky. Suddenly there is a minibus that carries basic first aid items from the Kiev humanitarian organizations. Glass jars with sauerkraut, pickles, boxes of clothing, blankets and a stack of mattresses. Most of the old men who stood the first in the new queue turns out in the end. All the hustle and I swear, when you begin distribution.
Zina Vlasova was in the midst of a crowd.
"I came to throw garbage and saw people from school. I hurried there," says Zina, whose head from the cold protects from hat, scarf and hood in addition.
The crush ends when it turns out that each got three jars of different kinds. Zeena worries that she will be able to take home. We give her two packages and she takes everything they got: six cans sauerkraut, brown blanket, knit a sweater, a few things easier.
Some of those who stood in line, help the elderly, standing outside in the cold, to share everything equally.
Those who are able, dragging mattresses through the snow. Nina, 77-year-old lady with the silver teeth, it can't carry itself. She calls a male relative.
"I've lived here all my life. When us started bombing, I went down to the basement," she says, while talking with his assistant to the door.
Turn came to go home and Zina, and she is struggling with her packages. Her eyes welling with tears, when we offer to help.
To one of apartment houses of the Town we go 200 meters. Homes in this part of the city periodically bombed for three years. In most buildings with huge holes the size of a car. The balconies are ready to fall. Windows blocked with plywood.
Many of the houses are empty.
Half of the 35 thousand inhabitants of the city fled. During the last offensive of Pro-Russian forces local coke plant was demolished. The factory gave work to many people and was supplying the district with electricity and heat. More than a week Zina and thousands of others lived in their frozen homes without electricity. The situation as a humanitarian disaster. Many had to evacuate. But Zina could not to leave.
"What am I gonna do with my man? It is impossible to move," she says walking to my door.
Zina leads us on the fifth floor of the stairs, where she lives with her 82-year-old husband Dmitry. He has a bad heart, and he won't get out of bed after a stroke. The couple are interrupted with work. Together they receive about a thousand SEK per month pension. Their children live in other cities, and they are hard to get out here as often as that really need their parents. Still, Zina luck.
"I don't know what I would have done without my neighbors," she says.
Most of all she helps Tatiana, 52, who lives in the apartment opposite. She buys food, medicine, cleans the apartment and helps to call Zinynai daughter.
Had they lived not as bad as it is now, she said.
"We do not live. We survive".
Many with whom we talk, have family members, relatives, friends and colleagues who live on the other side of the front, the self-proclaimed Donetsk people's Republic. They get news from the other side — that they are there as bad, if not worse.
Tatiana does not give a direct answer to the question, will people on the East and West reunited.
"We are one people. We lived together, worked together. But why would they attack us?"
Comments
comments