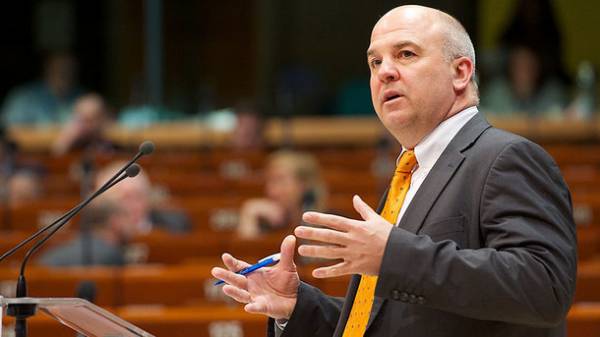 The Council of Europe Commissioner for human rights Nils Muiznieks has recommended the Ukrainian authorities to remove from legislation the requirement of electronic Declaration for activists of non-governmental organizations involved in anti-corruption activities. About it it is spoken in promulgated on 24 may the Council of Europe the letter of the Commissioner addressed to the Deputy head of the presidential administration of Ukraine Dmytro Shymkiv, reports "Ukrainian truth".
"I'm concerned that was put into effect in March amendments can allocate anti-corruption non-governmental organizations, making them subject to additional and unnecessary requirements," said the Commissioner.
He noted that NGOs and without that are the actual subject of the financial statements, and the media needs to pay taxes and submit reports to tax authorities. According to the Commissioner, more strictly should report only those persons or organizations that receive public funding.
"Therefore, I urge the Ukrainian authorities to review existing legislation and to eliminate the General or specific requirements in respect of Declaration of assets of civil society representatives or other persons engaged in anti-corruption activities," the letter says Muiznieks.
The Council of Europe also gives an answer to the letter of the Commissioner of the administration of the President of 22 may.
"We plan to finalize the amendments based on the approaches and rules described above (referring to "Fundamental principles on the status of NGOs in Europe", developed by the Council of Europe, as well as the principles governing the activities of NGOs in the EU. – Ed.) and to present them in the bill that will be submitted to the Venice Commission", – is spoken in the answer of Dmitry Shymkiv.
In the Council of Europe announced that Commissioner Nils Muiznieks welcomes the intention of the AP to revise the law in accordance with the standards of the Council of Europe.
As reported, on March 23 the Verkhovna Rada adopted the law on amendments to article 3 of the law of Ukraine "On corruption prevention" (No. 6172), which frees the troops, NCOs, petty officers and squads, Junior officers from filing e-returns, however, requires that representatives of public associations.
On March 27 the President of Ukraine signed the law. On the same day, the President held a meeting with community activists over a new law on e-Declaration, where the parties agreed to establish a working group for working out amendments to it.
The ambassadors of the countries "Big seven" industrialized countries (USA, UK, Canada, France, Italy, Germany and Japan) supported the proposal Poroshenko on the establishment of a working group to study jointly with the public amendments to the law "On corruption prevention" (No. 6172) in the part, which requires representatives of public associations to submit electronic declarations.
Comments
comments