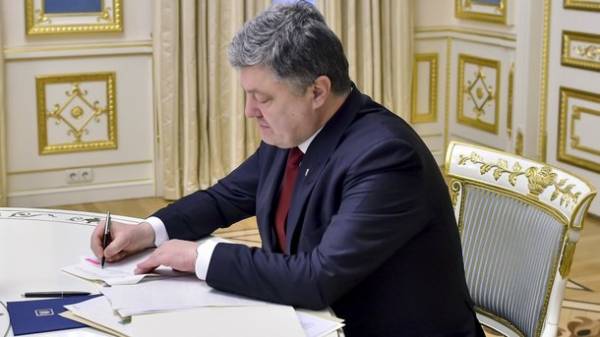 During the three years of the presidency of Petro Poroshenko 84% of the 111 submitted draft laws were supported by the Parliament and became laws. This was announced by the Director-General of the Committee of voters of Ukraine (CVU) Alexei Koshel.
"For three years the President has submitted to Parliament 111 bills, of which became laws 93 of the bill, which is 84%", – he said, presenting the results of the study at a briefing in Kyiv on Wednesday, may 24.
For comparison, during the first year of the Premiership of Vladimir Groisman , the government filed 307 draft laws, of which 71 became law, that is only 23%, which is low for a parliamentary-presidential Republic.
For three years, MPs have registered 4476 bills have become laws 326, or 7%.
"This high rate is associated not only with the efficiency of Parliament, and with the fact that in the Verkhovna Rada registered a huge number of bills, which we call PR-bills or "legal spam", used for simulation of active legislative activities, attracting policy attention, creation of information events," explained Purse.
He noted that in his time the Parliament was supported by 62% of the bills of President Viktor Yushchenko, who at different periods was in serious confrontation with the Verkhovna Rada. Viktor Yanukovych was the high rate of 92%, which explains the presence at the time of a stable coalition.
50 adopted laws the President is the ratification of the various agreements, which is natural. Further, the greatest support in Parliament to get the bills of the President in the sphere of security and defence, adopted 14. In the field of law and justice adopted six draft laws of the budget – five law enforcement or five.
Every second of the bills Poroshenko addressed Parliament out of turn, since in accordance with the Constitution, he can register bills, which are considered as urgent.
According to the deputies of the parliamentary factions of the bills the President supports:
faction "popular front" (85% of MPs);
in the "Block of Petro Poroshenko" – 79% of the deputies (according to the Purse, it is connected with the constant problem of factional discipline);
"Samopomichi" – 74% MPs;
in the "Radical party of Oleh Liashko" – 66% of the deputies;
in the "Fatherland" – 53% of the deputies;
in the group "people's Will" – 48% of the deputies;
in the group of "Vidrodzhennya" – 32% of MPs;
in "the Oppositional block" – 8% of MPs.
Recall President of Ukraine Petro Poroshenko signaled he would sign the Parliament adopted the law on the introduction of quotas on using the Ukrainian language on television.
Comments
comments