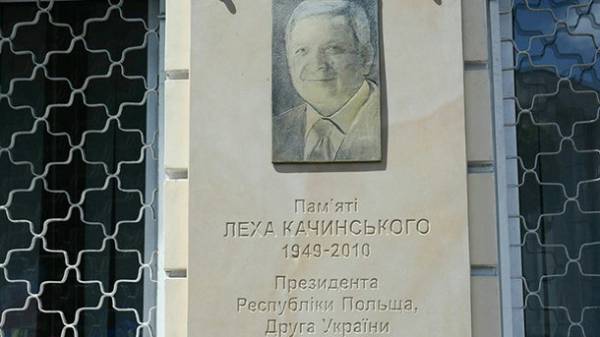 In the center of Zhitomir on the facade of the local Prosecutor's office opened a memorial plaque to the Polish President Lech Kaczynski, who died in a plane crash near Smolensk in April 2010. About it reports UKRINFORM.
"In Zhitomir is home to one of the largest Polish communities in the Ukraine. Today, our city has developed close relations with Polish cities – Plock and Biomom. Lech Kaczynski is a figure of the world level. He put a lot of effort to defend the Ukraine during the Russian aggression, he was a friend of Ukraine. Opening a commemorative plaque and renaming one of the Central streets in his honor, and at the same time we Express our gratitude to Poland for its support", – said the mayor Sergei Suhomlin.
In turn, attending the event, Deputy Prime Minister – Minister of regional development Gennady Zubko noted that the Zhytomyr became the second city (after Odessa), where a memorial plaque Kaczynski.
Vice-speaker of the Seimas of the Republic of Poland Ryszard Terletsky said that Kaczynski was one of the few modern European leaders, who openly opposed the theory of being in the shadow of Russian influence.
Comments
comments