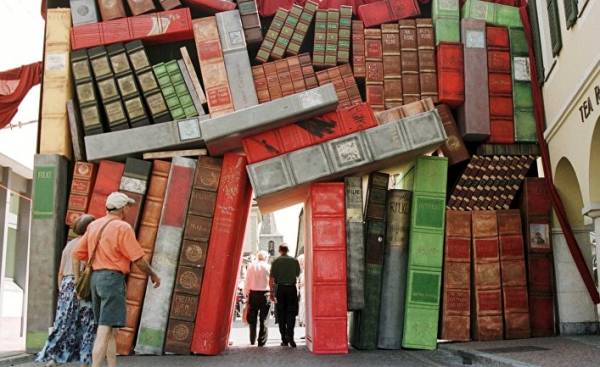 Rilke? This is the guy who sympathizes with the animals in Paris, whether in a cage ("nothing but twigs then there is no peace") or the children's carousel ("And again white elephant"). Now we have the opportunity to learn how the poet sympathized with Russia — thanks to the magnificent exhibition "Rilke and Russia") at the Museum of modern literature in Marbach. Moreover, the authors are with the thesis that Rilke it is thanks to Russia all became a poet.
In a time of endless political differences between Berlin and Moscow by the German literature archive do full-time to a Russophile. It can be argued that there is a real axis "Marbach an der Donau-Moscow", and it works. In the Park, "Schiller height" in Marbach even brought the whole grove is beautiful (even if artificial) of birch trees, and every 15 minutes it hit "the Kremlin chimes". This is consistent with the memories Rilke about the Moscow Easter 1899 in the Kremlin under the "sound" of Ivan the Great.
Two "deep dive"
Twice, in 1899 and 1900, Rilke visited Russia, spending several months there. For the first time he went through his life companion, Lou Andreas-salomé (Lou Andreas-Salomé), a native of St. Petersburg. This woman, as shown in the released in last year's film of the same name, was married to the orientalist Friedrich Carl Andreas, despite the fact that between spouses, by mutual agreement, never had sexual relations.
He had nothing against the fact that the lover of his wife, Rilke accompanied them to Russia. It also does not bother (and, perhaps, he simply did not know about it) that calling card of his wife in the form completely consistent with the card Rilke — unlike his own business cards. Small, full of deep meaning of exhibits like business cards this kind of "Swedish family", typical of the exhibitions held in Marbach, the organizers who are willing to turn these items (in a shortened, but more concentrated form) into objects of fetish.
Rilke in search of himself
However, this time exhibition in Marbach "stripped-down" just do not call it: shiny black stands decorated extremely elegant, along with manuscripts, letters and book pages the visitors will also see, for example, camp cookware Rilke, as well as its guide to Russia, published in 1897, with different marks.
As you can see, by visiting the exhibition, Russia in those days was the opposite of industrial and decadent civilization-depleted West. According to the curator of the exhibition Thomas Schmidt (Thomas Schmidt), the Russian credited with "direct connection to God and nature." The impression arose that they "could make a significant contribution to the cultural, spiritual and religious renewal in Europe."
As Kleist in the village
Half of Europe in those times dreamed of, it is now filled with the likes of Le Pen and the German left about Putin — and the young Rilke wanted, perhaps more than many others. Kiev did not like him because he was "too European", and Moscow liked him more Petersburg. However, the most "Russian" it seemed the village.
One hundred years after Heinrich von Kleist (Heinrich von Kleist), which for some time fell into a depression and went to the country near the city of Thun (Thun), Rilke went to Russia, where he lived in this village hut. And there was nothing wrong in the fact that he's survived for only four days, and his girlfriend Lou were fighting "on the pieces on the nail and on my nerves." Important was only the appearance, and Rilke a few years later were happy to go to his village Worpswede (Worpswede) in Russian clothes is not upravlyaushaya in pants shirt and red peasant boots.

Russian one who goes barefoot
The last line he picked up from the village poet Spiridon Drozhzhin. No matter what used Rilke thought the Russians go barefoot. He also found a beautiful Russian poverty: "I am not afraid that the Russian people will die from hunger, because God himself feeds him with his eternal love."
However, the organizers of the exhibition in Marbach does not aim to present writers (specifically Rilke), a sort of controller of the real situation and something to deny. Quite the contrary: according to Thomas Schmidt, we are talking about the "energy of suggestion" Rilke on Russia, which played an important role in his work, from "books of hours" before the story "cornet". And if the fans of Rilke identified the name of the poet with such places as Paris, Duino or Warspite, now they could put into this series and Moscow, the Volga or Yasnaya Polyana.
A visit to Tolstoy ended in failure
Well, okay, visiting estate of Leo Tolstoy can be called successful for Rilke. Because when he, along with Lou second time came to Tolstoy in Yasnaya Polyana, he learned that only Lou and I could not remember the young lyrics. Then began a gradual distancing Lilke and his companion from Tolstoy, whom they once praised a kind of "gates of Russia".
Travel Rilke to Russia has long been known, but nobody wondered about how much value they had. Curator of the exhibition Thomas Schmidt even allowed myself to draw an analogy: what Italy was for Goethe, the same for Rilke was Russia. And just as there are iconographic portrait of love Goethe to Italy (talking about the painting of the artist Johann Heinrich Tishbeyna (Johann Heinrich Tischbein) "Goethe in the Roman Campagna"), visitors to the exhibition in Marbach can see in the picture Rilke by Leonid Pasternak, Rilke in front of the curtain of the Kremlin.
"Russia made me what I became, internally, I happen it out, it is the homeland of all my instincts, my inner source," said Rilke in 1920.
These words, of course, and love the destination, and this relationship was reciprocal: that Russian was the first foreign language, which was translated the works of Rilke. Russian writer, Nobel prize laureate Boris Pasternak was the son of the artist Leonid Pasternak — even admitted that he became a writer only thanks to Rilke.

That's how "Russian" was Rilke
In 1934, at the first Congress of Soviet writers, Pasternak told his countrymen: "Rilke absolutely Russian. As Gogol. As Tolstoy!" It is interesting, incidentally, that the Russians never took offense at Rilke for what he portrayed Russia completely apolitical.
Separately and alone standing red showcase shows how negatively Rilke embraced the revolution of 1917. In the days of Stalin about the German poet almost all forgotten, but after the dictator's death the name of Rilke once again began to be mentioned in one row with Boris Pasternak and Marina Tsvetaeva.
During the opening ceremony of the exhibition Director of the German literature archive Raulff Ulrich (Ulrich Raulff) called it "the literary-political event", and Dmitry Bak, his counterpart from the Russian State literature Museum, where the exhibition — after "intermediate stops" in Switzerland will take place next year, added: "We hope that culture will remain an area in which the rapprochement between our countries will continue."
But it is not only in mutual understanding of the two peoples, but there is also a biographical dimension. Because the creative legacy of Rilke for Russia, Switzerland and Germany, and it is noteworthy that he is perhaps the last poet of the modern era, most of the heritage which is in private ownership.

Who owns Rilke?
Literary archives, which was originally created as a sort of "appendages" of a national philological Sciences, many poets are unable to establish specific national boundaries.
So, for example, the creative legacy of Peter Handke (Peter Handke) is divided between Vienna and Marbach. And to purchase letters of Franz Kafka, written in his sister Ottla recently succeeded only in conjunction with the Bodleian library Oxford public institutions had long been unable to compete with private companies when it comes to the financial aspect.
Exactly the same situation with the artistic heritage Rilke, from the point of view of belonging to this or that state, as ambiguous as his very life: in 1875 he was born in Prague on the territory of the Habsburg Empire. During his life he took more than a hundred addresses, and the status of his stay in different areas have been mixed. In our day he would undoubtedly have a lot of problems with immigration.
When, in 1919, Rilke traveled to Switzerland, he received permission to stay in the country only ten days. Only a few months and with great difficulty managed to legalize his status. From a financial point of view, he needed with the help of friends, among them wealthy ladies of noble origin.
By the way, the exhibition in the literary Museum you can notice that Rilke was kind of fans. Women, never even met him and yet he wrote the volume letters, he attracted like no other. "Rainer, it's evening, I love you. (…) The whole of Russia roars at you. Rainer, don't be mad at me, but tonight I'll sleep with you."
Shortly before his death Marina Tsvetaeva claimed that Rilke is not German, not Austrian, and not a Bohemian, "a man without a country". And Russian pages "of the country-Raineri" in any case worth a trip to the exhibition for Swabia, in Marbach.
Comments
comments