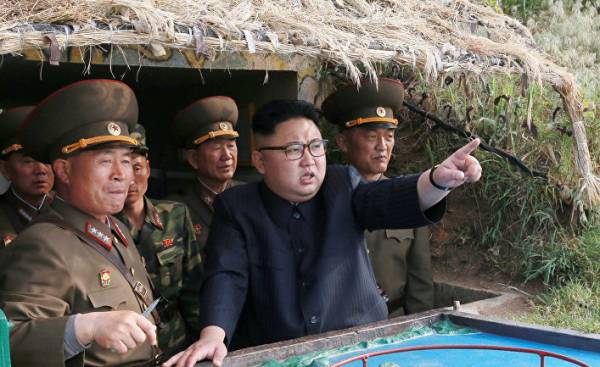 Currently in Washington the idea of a "Grand bargain" between the US and Russia has become even less popular than ever before. However, one of the main foreign policy problems that now face U.S. — North Korea — cannot be solved without participation of Russia. Over the last few years Russian President Vladimir Putin managed to establish quite a close relationship with North Korean dictator Kim Jong-UN (Kim Jong-un), and now to temper the aggression of this Stalinist regime, it is not enough to negotiate with China.
Last Sunday, 14 may, North Korea tested a ballistic missile that could possibly reach the U.S. military base on GUAM. The missile fell in the sea of Japan, just 100 kilometers South of the Russian port city of Vladivostok, as reported by the American media. In its statement, the White house said: "Given that the rocket fell so close to Russian territory, in fact, closer to Russia than to Japan, the President [of the United States Donald trump] could not imagine that Russia is happy [start]".
Putin reacted quickly and negatively. Although he stressed that Russia opposes the increase in the number of nuclear powers, including at the expense of North Korea, he added: "we Need to return to dialogue with the Democratic people's Republic, to stop intimidating her and to find ways of peaceful solution of these problems."
"Stop intimidating North Korea" is much more strongly worded than those in April was used by the Minister of foreign Affairs of China Wang Yi (Wang Yi), who urged "all parties to refrain from provocative statements and actions". In contrast pointedly conciliatory approach to Beijing accuses the Kremlin of escalating the US. Given such open support from the Kremlin, it is not surprising that Russia — and not China — was the first in the list of congratulations Kim with Chinese New year.
If you remember that North Korea maintains significant economic ties with any country except China, this sequence of greetings even more surprising. For more than 10 years, the trade volume between North Korea and Russia did not exceed $ 100 million per year, although in the 1970s and 1980s the Soviet Union was the largest trading partner of North Korea, which accounted for 53% of foreign trade turnover of the country (2.3 billion in 1990). Two States set a goal to increase the trade volume up to $ 1 billion by 2020, however, this planned growth is not observed.
Meanwhile, trade is not the best way to win the trust of North Korea, whose dominant ideology of Juche means independence and self-sufficiency. Russia has supported this isolated state, when he needed help.
In may 2014, less than two months after the annexation of Crimea, which Western countries wanted to punish Russia, Putin wrote off 90% of the 11 billion debt North Korea. This amount corresponds approximately to the GDP of this country. The remaining 10%, according to Putin signed the agreement, can go to the implementation of joint projects of Russia and North Korea. In the same year, Russia sent to North Korea of 50 thousand tons of wheat as humanitarian assistance.
The North Koreans also help Putin in the implementation of one of his favorite projects, consisting in the revival of the Far East. Now about 50 thousand citizens of North Korea — in 2010, there were 21 thousand — working on construction sites and warehouses of sawn timber in Russia, which open lead monitoring of the North Korean intelligence service. The North Korean government takes from the workers a large part of their income, but the remaining part so big by the standards of this country that fight for this work — the UN and human rights organizations characterize it as slave labor, imply bribery. If workers suddenly decide somehow to stay in Russia, the Russian authorities give them North Korea. Former Pro-Western President Boris Yeltsin let some defectors hiding in Russia, but those days are long in the past.
Russia is seeking to reduce the degree of international isolation of North Korea. In 2013, she has completed the reconstruction of a railway between the two countries, and in may of this year, between Vladivostok and the North Korean port of Rason started to run a ferry.
Putin's Russia never does anything just because, but she hardly expects to obtain from North Korea the economic benefits of such magnitude, which could be of interest to Russian oligarchs or its giant state-owned companies. Like China, Russia makes a political contribution to the country, which is a buffer that separates her from us military bases in South Korea. Regardless of what Putin says about the non-proliferation of nuclear weapons, he wants to militarily, North Korea was strong. As for the Russian military, North Korea tested a ballistic missile landed near Vladivostok as saying the White house: according to the Ministry of defense of Russia, the rocket fell 500 kilometers from Russian territory.
Kim Jong UN understands that the existence of his regime depends on whether his country to assume the role of a buffer. It makes any spontaneous act of aggression by North Korea is extremely unlikely that such a move could provoke a war right on the borders of Russia and China, making Kim's useless for both powers. He just needs to rattle their weapons loud enough to keep US from taking any steps and to remain useful to the larger North Korea's neighbors.
If the rattling is too loud from the perspective of Washington, China is not the only partner with whom we need to discuss this issue. Its economic impact is not as great in absolute terms, Russia could not take part or even the bulk of the financial burden that today bears PCIe. Moscow has made it clear that she is next in line for the deal with Kim.
Meanwhile, negotiations with Russia may be even more toxic for the current administration of the United States than by negotiating with Kim. Therefore, to deter North Korea from carrying out its more ambitious testing and from threats against the United States becomes almost impossible. The military solution to this problem also cannot be called good, because Russia and China will not support him in this case, the United States will strike too close to their borders.
Promises to impose sanctions against those who help North Korea as being the US Ambassador to the UN, Nikki Haley (Nikki Haley) this week — it is not efficient: Western sanctions against Russia only exacerbated her paranoia and made her — among other things — to get closer to Kim.
In 2014, Putin tried to make a supply of "goods" in exchange for which he wanted to make the United States the agreement on the conservation of Russia's right to influence the policy of the former Soviet bloc countries, including Ukraine. Putin got leverage over Syrian and North Korean regimes, as well as the leaders of Libya and Iran. Yet he could not find buyers. But if you avoid trades with Putin, this can cause problems in the relationship with its customers. If the US does not want to start a war with North Korea, they need the help of Putin to resolve the current crisis.
Comments
comments