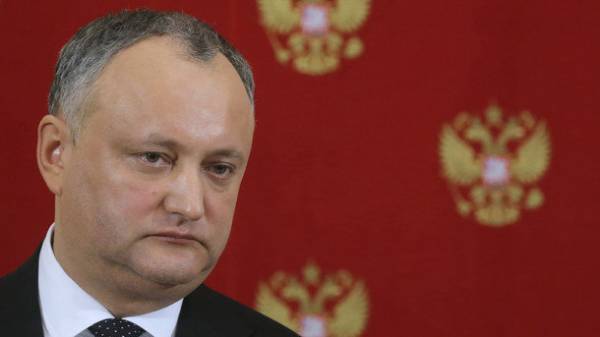 The President of Moldova Igor Dodon accuses the EU of providing "geopolitical support" for his country to hold the government in Chisinau Pro-European governments, reports "Radio freedom".
Dodon said that he appealed to the officials of the EU to freeze aid package to Moldova in the amount of 100 million euros. He said that he welcomed the EU's decision of 16 may to postpone for at least a month a vote on granting financial aid to Chisinau.
"Moldova receives a lot of support from our foreign partners and I am grateful to them for that. But very often it was the geopolitical support, not designed to improve the lives of citizens of Moldova, and is designed to hold the power of the number of corrupt, oligarchic governments," said Igor Dodon.
As we know, Igor Dodon declares desire for the rapprochement of Moldova with Russia. April 3, he signed a Memorandum of cooperation with the Eurasian economic Union, under the auspices of Moscow.
The signing of the Memorandum sharply criticized the Prime Minister of Moldova Pavel Filip, standing on Pro-European positions.
In Moldova, the post of President is largely ceremonial, with limited powers, foreign policy is the prerogative of the government is now Pro-European.
Comments
comments