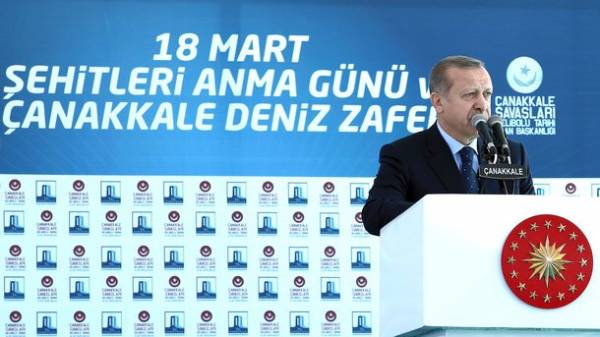 Turkish President Recep Tayyip Erdogan on Sunday, March 19, accused German Chancellor Angela Merkel in the use of "Nazi" methods. About it reports Deutsche Welle with reference to the speech of Erdogan, which was broadcast on TV.
"You're too used Nazi methods. With respect to whom? With respect to my Turkish brothers and sisters in Germany, about my brothers and sisters of the Ministers, to my brothers and sisters of MPs who go there," he said.
The Deputy Chairman of the party Christian democratic Union Julia klöckner responded to the words of the President: "Mr. Erdogan even at your mind?".
Earlier in Turkey criticized the statements of the Federal intelligence service of Germany Bruno Kalya, who reported no evidence that the organization of military coup in Turkey in July 2016 is the movement of the preacher Fethullah Gulen.
Press Secretary of the President of Turkey Ibrahim Kalin in an interview with CNN Turk on March 19 said that this position is the head of the German secret service proves, supposedly Germany supports a terrorist organization that was behind the coup attempt last year.
Relations between Turkey and European Union in recent years has deteriorated dramatically. In several cities of Germany and the Netherlands had banned publicity of the Turkish Ministers before the constitutional referendum, which will be held in Turkey on April 16. March 5, Erdogan has accused Germany to use its policy of "Nazi practices". March 11, he called the Dutch "descendants of Nazis" and "fascists", and later in Ankara announced the suspension of diplomatic ties with the Netherlands.
In addition, before Erdogan accused the European Union at the beginning of a "crusade" against Islam. He commented on the decision of the European court in Luxembourg on 14 March, which the European employers were permitted to prohibit their employees to wear in the workplace headscarves and other religious symbols.
Comments
comments