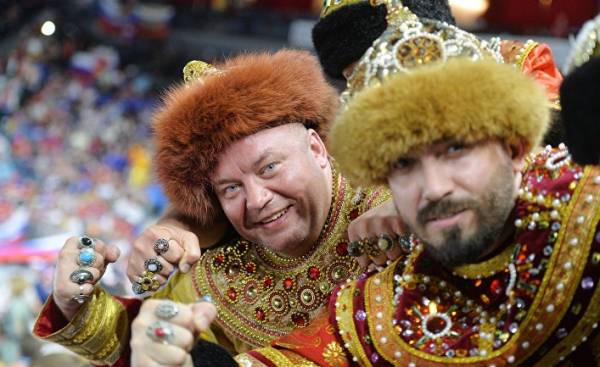 After the game against USA, in which the Russians lost at the world hockey championship, the Russian fans behaved mind. During the hymn, the opponents they whistled, yelled like a madman "Russia", and so on. IIHF ought severely to punish Russia.
The title I borrowed from the discussion of the game under one of the articles on the portal iDNES. I must say that these words in Russian is still quite nice. There were more harsh words, like loons, men and things. I'll continue the list, for example: rednecks and backward barbarians. Because this behavior otherwise impossible to estimate. Some idiot out there still got the shot to close the happy faces of American fans with the flag, and showed us his t-shirt with the inscription in Cyrillic. In General, from the Russian fans it was horror and darkness.
To simplify the work of some truth-seekers, I admit that not so long ago published a blog article entitled "Czechs rightly booed the Russian anthem." But I clearly wrote there that do not Boo any national anthem. But one must always separate the cause and effect. In that case after the game at the world hockey championship among women up to 18 years in přerov between the Czech Republic and Russia the cause of the whistling of the Czech fans was outrageous conduct of the Russians, some even brutally beaten helplessly lying Czech hockey players. Thus, the Russians broke the Holy rule to be observed in the NHL: the helpless opponent lying on the ice, can not be beat. Therefore the wrath of the Czechs then had to explain.
But as for today's hockey match between the USA and Russia, which ended with the victory of Americans with the score 5:3, the Russian, the primitives just could not stand defeat. For such heinous behavior was not Russian causes. And I'd like us to beat Russia in the quarterfinals, won and sent her players to the "Aeroflot" home.
Comments
comments