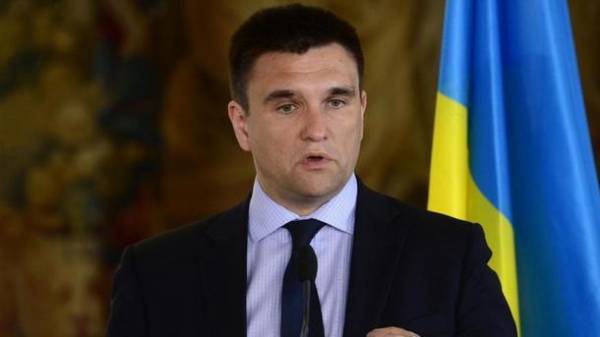 The Minister of foreign Affairs of Ukraine Pavlo Klimkin explained that he was referring to when he said that Ukraine deserves a strengthened variant of the Association with the European Union. He said this to journalists in Brussels.
"I mean that countries that perform an Association Agreement that will gradually go to the European Union standards in all sectors, be involved in politics of the European Union. And this concerns not only the economy, not just energy, it's not just transport, it also applies to the humanitarian sphere, but also to science. Gradually we have to learn all the policies… all that is" – said Klimkin.
"In all directions, we shall gradually, but very concentrated and systematically move to the European Union. That's what I mean," added the Minister.
As reported, on may 12 Klimkin stressed that Ukraine deserves a strengthened variant of the Association with the European Union.
He expressed the hope that in the coming days will be the final decision on ratification of the Agreement between Ukraine and the EU from the Netherlands. "That's what the further meaning of cooperation within the Eastern partnership, our bilateral cooperation with the European Union? I believe that Ukraine, but also our friends and partners, Georgia and Moldova deserve another format of interaction, which can be described as enhanced by the Association", – said Klimkin.
He added that "in the framework of this strengthened Association we have a lot of ideas."
In the opinion of the Minister, the success of "Eastern partnership" in the implementation of the Association Agreement should bring them closer to the EU in terms of economic integration. In particular, he said that "it should be a clear logic of movement to the four freedoms (European economic integration: the free movement of goods, capital, people and services. – Ed.)".
Comments
comments