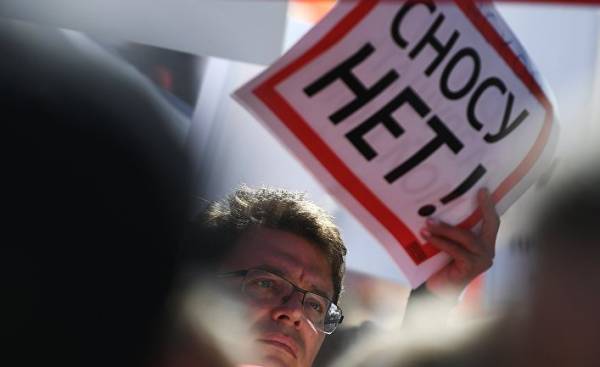 Angry Andrey Leonov is holding a photograph of a small five-story building with beautiful, despite the age (built in 1956), yellow facade. Now the house is about to be demolished. The young man became a member last may 14 in the center of Moscow demonstrations, which gathered thousands of citizens (5 thousand according to police, 20 thousand according to the independent organization "White counter"), to protest against the giant project of urbanization and the demolition of more than 4.5 thousand houses of the Soviet construction.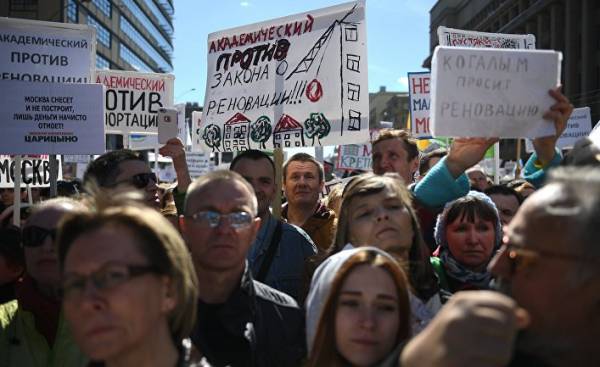 © RIA Novosti, Vladimir Astapkovich | go to potbanging against the demolition of five-story building in Moscow
The draft was adopted at first reading on 20 April in the state Duma and announced a few weeks before Vladimir Putin and Moscow mayor Sergei Sobyanin. It was assumed that it would cover 8 million homes, which are home to 1.6 million people. However, even after halving it are the concern of tens of thousands of people who will be resettled. Like everyone else, Andrei Leonov found that he was in a public hall list. Government-organized first meeting with the residents nothing.
"People they do not care"
First of all, it concerns the residents of "Khrushchev", which was named in honor of started their construction in the 1950-ies Soviet leader (it was on the largest plan of the Soviet urbanization). "Instead of small houses they want to build tall buildings to steal, not hiding the irritation Andrey Leonov. — People they do not care".
Protest moves, rather, not nostalgia, but a conviction in violation of the approved after disintegration of the USSR law on private property. "This is a disaster for the city and its population, — said the young entrepreneur Dmitry B. — Now they are all, as the improvement of housing conditions, however, secretly looking for, how to capitalize".
A year before the presidential election less than five months before the election of the mayor of the capital (12 million people) protest sometimes takes on a political hue. Some carried placards with the slogan "Tired" and a photograph of the mayor, who was formerly head of the administration of Vladimir Putin. Opposition leader Alexei Navalny, who came to the demonstration with his wife and son, were expelled by the police.
Anyway, many of the participants first came out on street protests. For example, Alexander and Andrew Elinkine, the parents of four children. Previously, they generally supported the rule, however, the demolition of thousands of homes they were shocked. Two years ago, the family for 10 million rubles, purchased a new "quiet area". On Sunday, the mayor has published on his page "Vkontakte" designed to reassure people the message: "In the course of work on the draft opinion of Muscovites will be considered".
Comments
comments