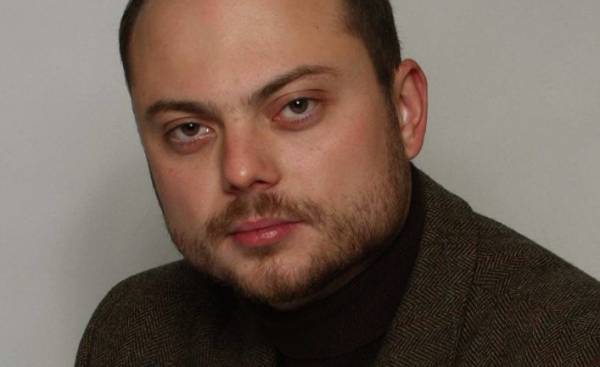 His first trip after he almost died, was the visit to Prague. The father of three children, a journalist and a prominent representative of the Russian democratic opposition, Vladimir Kara-Murza was poisoned on the second of February this year. Although the doctors told his wife, that hope for the survival of just five percent, in mid-may he went to Prague for the conference "Where it begins and ends with Europe", which was held by the Library of Vaclav Havel. But the Czech beer until he can't drink. After the first poisoning in 2015, it was restored year.
— Petra procházková: do You think that two times you will be poisoned by the same substance? Likely done by the same people?
— Vladimir Kara-Murza: most Likely, Yes, because in both cases, my body reacted in exactly the same way. I have refused all the organs. We do not yet know the composition of the poison, but my lawyers have received my blood samples, taken after the poisoning, and sent them to laboratories overseas.
— This is probably not rat poison, which can easily buy in the store…
— Experts believe that it was a pretty difficult matter. In six hours it completely paralyzed my whole body.
— If you tried to kill the real professionals, then, pardon my cynicism, why have they failed? As a rule, they succeed from the first attempt, and with the second… Not if they wanted You just to scare?
— Not at all. Most likely, they made a mistake in the calculations. I was supposed to fly to America. If the poison began to operate a little later, then I'd be on the plane, and there was nothing he could do about it. I would not survive ten hours of flight time. But maybe my body was weakened after a previous poisoning and reacted prematurely, but not when they expected. And this, paradoxically, saved my life, that is what I was weak. However, the method of making all of this leads me to believe that I tried to kill those who in the past served or continue to serve in the Russian special services.
— It was their initiative or received orders from above?
I don't know. In 2015 and now we submitted the application on excitation of criminal case on attempted murder. But I never answered. This once again confirms that we, the opposition, the Russian laws do not protect. Two years ago shot dead a representative of the democratic opposition, Boris Nemtsov. There appeared before the court only executors of the shooting. Neither the organizers nor those who ordered the murder will never be punished.
— Ties something of the murder of Russian journalists Yuri Shchekochikhin, Paul Klebnikov, Anna Politkovskaya, the lawyer Stanislav Markelov, the auditor Sergei Magnitsky, a policy Boris Nemtsov and many others?
They criticized Putin, and their killers, real killers, who ordered them, and not punished. For the murder of these people the political responsibility of Putin.
— What do you think, is there some kind of secret center, which organizes the murder of Russian journalists and politicians, or is it all unrelated actions of different groups?
I don't know, but it's safe to say that Russia suspiciously often die political opponents and critics of President Putin. When his regime falls, we will be surprised how much will come out.
— Perhaps the same reason that Putin is afraid to leave the safety of the presidency.
— Without a doubt. But if it was the dictators, they would have remained in power for centuries. Once Putin's rule will end, and it can occur in different ways. However, not exactly the result of the election.
— But I do not see in Russia a kind of revolutionary situation. As you want to force the regime to relinquish power on their own?
In 2011 in Russia swept mass protests. And this year in late March, again quite unexpectedly, tens of thousands of people across Russia took to the streets. It was the worst unrest since the collapse of the Soviet Union. People have protested not only against fraud, but against the regime. That's progress. The demonstration came a youth, who has grown under Vladimir Putin. They don't know anything else, and they are fed up. When taken to the streets hundreds of thousands, to stop them will not succeed.
Perhaps it's your dream, something like "the wish is father of the thought"?
— We know what will happen in a year in March, no elections will be. I think that the protests will slowly but surely rise and fall only when the collapse of the current regime. The odds of that, I don't know. But I do know that it will. Putin is not eternal, even if he wanted.
— Despite the fact that you don't believe in the meaning of elections in contemporary Russia, you don't boycott? One of the candidates you will support?
Recently in Tallinn was held the conference of the movement "Open Russia". There I decided to support Alexei Navalny. There can be no assurance that it will register as a candidate. But this is not so important, because we do not want to change Putin for Khodorkovsky or Navalny, one king to another, which is slightly better. We do not want kings. We need to change the whole system.
— There is a belief that Russia has no democratic traditions, and that most Russians want power strong hand…
Is one of the myths about Russia. Offensive myths. Every time in Russia by chance held truly free elections and Russian citizens could choose between authoritarianism and democracy, they always chose a free option. Always. Whether in the case of elections to the first Duma in 1906, or in the case of elections to the Constituent Assembly in 1917, or at the election of the President in 1991. Three times when we faced a historic choice between autocracy and democracy, we chose freedom. Each country has its own myths. You probably also don't want to be rated as the nation shveikiv.
Whether Vladimir Putin's popularity so high, as evidenced by opinion polls?
According to them, Putin supports 86% of Russians. However, sociology in an authoritarian state doesn't make any sense. Imagine that you sit at home and know what's going on in the country: people are imprisoned, persecuted only because of their political beliefs. And suddenly someone rings the door. There is a man with a questionnaire and asks: "are You for or against Putin?" What would you say? If Putin really supported by 86% of the population, he would not have to rig the elections. Why would he then put his opponents, why stop the mouths of journalists why beat peaceful demonstrators with batons? All because the Kremlin knows no 86% no.
— How do you assess the behavior of Europe in relations with Russia?
— Sanctions are only meaningful when they are prepared in the following models: to leave the country alone, and for violations to be punished. That is, sanctions should be targeted, personalized: blocking foreign accounts of specific individuals, the denial of visas, the confiscation of their property abroad. But you need to grasp the modern essence of the Putin regime. He has a lot in common with the Soviet regime: political prisoners, censorship and so on. But there is one difference. The members of the Politburo of the Central Committee of the Communist party did not keep money in foreign banks. They did not send their children to study in the West, do not buy yachts, villas, palaces and vineyards in the luxurious seashores. The current government is doing all this. These people violate the basic principles of Western democracy, do not have the right to enjoy the benefits of free Western civilization. Today two countries, the EU imposed targeted sanctions exclusively: Estonia and the United Kingdom. It is very important that this process is not stopped, and that personal sanctions for violation of human rights, for the support of war and other found tangible support, and you too.
— After your and our presidents met in China, it's not like we had initiated such sanctions…
— Still, you had Havel and he was a man of principles. And they need to return.
— Since we are talking about principles, I don't think You can claim that You supported the return of Crimea to Ukraine, because the annexation of Crimea by Russia welcomes the vast majority of Russians?
— Russian democratic opposition clearly said that what Putin has done with Crimea is completely illegal. As a result, we live in a country with unrecognized borders. For the first time in a hundred years. This is contrary to the interests of our country. Anyone who will replace Putin, will have to address the issue of the Crimea, and this decision will be extremely difficult. Putin will leave us after a big problem.
— Did you follow after the two attempts on themselves any special safety rules?
— This one rule is. My wife and children are not in Russia. What else can I do? Because I can't eat, can't breathe.
But you can leave Russia…
Rehabilitation I walk outside Russia. I do not blame anyone, but I think that prominent figures of the Russian opposition have no right to run. How it will regard our fellow citizens who expect change? What will they think? I see that happening in my country, and if I do nothing, I become an accomplice. As soon as I recover, I will return to Russia.
Comments
comments