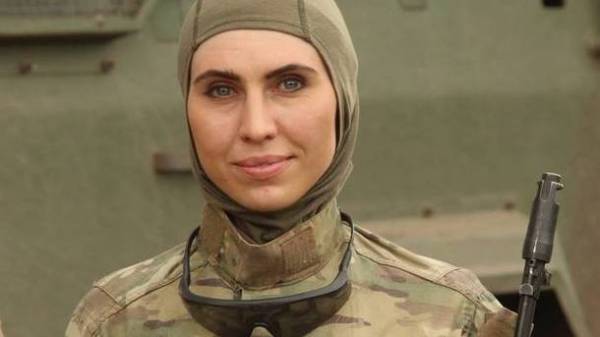 Russia in the near future will focus on hybrid war in Ukraine, swinging the situation inside the country, that in the future was prepared a base for a large-scale invasion of Russian troops. This opinion was expressed in an interview with "Apostrophe" former fighter regiment "Kiev" volunteer battalion behalf of Dzhokhar Dudayev, Chechen Amina Okueva.
According to her, Russia will conduct Subversion and provocation in all regions of Ukraine.
"Based on what I see in the near future Russia will focus on what hybrid warfare. They will try as much as possible to undermine the situation in all regions. I approximately imagine any huge funds that they need. But today I see that they are in the rear, at the peaceful territories to shake from the inside. And in all regions. In particular, and in Kiev", – said Okueva.
As for the front, it noted that the occupants will not be able to capture new territory in the Donbas and to move forward without using aviation or a full-scale invasion.
"Of course, some local exacerbations are constantly. And they will continue. Maybe they will be even more. But global offensive is not a local, roughly speaking, coke to take in the town, a kilometer plus a minus kilometer and global — type to reach the Dnieper — I do not see such a danger in the moment", – said the Chechen.
She insists that Ukraine should not relax, because Russia will try to split the country from within, investing huge amounts of money.
"Things can change. And it is very important to hold on and to prevent a split and the situation gets out of control. Because they want this slacking to achieve complete confusion and vacillation in Ukraine. And when some strategic companies decide that Yes, the situation is quite shaken, when they will be able to bring the situation to a coup attempt from within, they can at any time, literally within weeks, to collect forces in a fist and to strike. To hit with the expectation to walk already to the Dnieper. And, maybe, on. But while the main danger I see in the loosening from the inside — and so we need to keep the situation in all regions," added Okueva.
As told to the expert of the Center for the study of Russia Alexander Samara, Russia needs the occupied territory of Donbas only in order to support the destabilization of the situation in Ukraine and to try to exchange these lands for recognition of Crimea as Russian territory.
Comments
comments