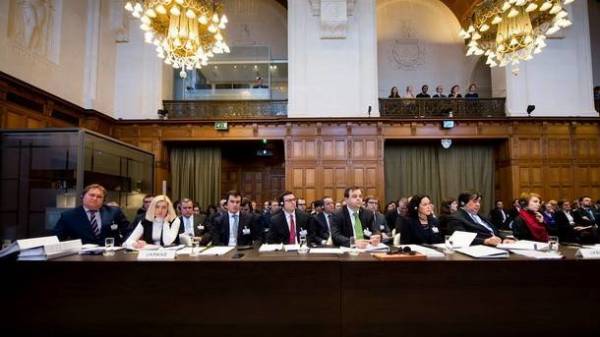 In the Hague on may 12 held a meeting of the delegations of the parties to the case "Ukraine vs Russia" in the International court of justice under the chairmanship of the President of the court, Ronnie Abraham.
As the press service of the foreign Ministry of Ukraine, the results of the meeting were defined a schedule for further procedures in the case.
"Ukraine must submit to 12 June 2018 its written Memorandum, with all evidence of the crimes of the Russian Federation since the beginning of the aggression, the Russian Federation its counter-Memorandum before 12 July 2019," – said the Minister.
In this regard, said that the timing of the filing of the Memorandum Ukraine – 13 months – in line with the General intention of the Ukrainian side.
It is also said that the results of the meeting, which bore a procedural nature, will be issued by order of the President of the Court.
Recall the lawsuit in the international court of justice Ukraine filed January 16, 2017 with the goal of bringing Russia accountable for its support of terrorism in Eastern Ukraine, and discrimination against ethnic Ukrainians and Crimean Tatars in the occupied Crimea.
On 19 April the court announced the decision, which partially satisfied the request of Ukraine on the application of provisional precautionary measures against Russia. Measures related to the International Convention on the elimination of all forms of racial discrimination (CERD).
The court pointed out that Russia must refrain from in order to continue to limit the ability of Crimean Tatars to preserve their institutions, including the Parliament. Russia also needs to guarantee the availability of education in the Ukrainian language.
Regarding accusations of Russia in violation of the International Convention for the suppression of the financing of terrorism, the court decided that Ukraine had not provided enough evidence that would have been a significant basis for the precautionary provisional measures.
Comments
comments