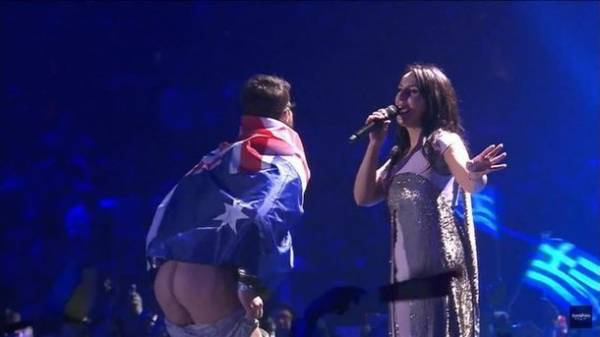 The President of Ukraine Petro Poroshenko is satisfied with holding the Eurovision song contest in Kiev, however, disappointed with his behavior scandalous journalist Vitaly Seduce, which spoiled the impression of Ukraine in the eyes of foreigners, having shown his bare backside during a performance of Jamala. He said this at a press conference.
First and foremost, the President congratulated all, including the naysayers, Eurovision.
"I think the Eurovision song contest was organized at a very high level. What Kiev has seen tens of thousands of European guests is important information that will be conveyed to our European partner countries," – said the President.
The President also commented on the incident when Seduc jumped on stage and bared their buttocks live.
"Really liked the performance ONUKA, really liked the performance of Jamala. Very like, if not… still liked it. There is always someone who will pop up and show thinking that is freedom. I think it is very bad when so people find the opportunity to Express themselves. 200 million watching Ukraine, tens of thousands of people, including volunteers, has made every effort to not just make this holiday, and to show Ukraine to the world. And here emerges one sorry ass who thinks that what the world needs to see from Ukraine. I'm disappointed. But I think that it is us impressions of the holiday is not spoiled," – said Poroshenko.
We will remind, yesterday during a speech by Jamala at the final of Eurovision-2017 in Kiev on stage, ran the fan with the flag of Australia and bared buttocks. Bully turned out to be scandalous prankster Vitaly Seduc. After the incident, the guy gave security, and Jamal continued to sing as if nothing had happened.
As it became known today from the Minister of internal Affairs Arsen Avakov, Vitaly Seduce, which showed the buttocks during a live broadcast performances Jamala, was sent to jail.
Comments
comments