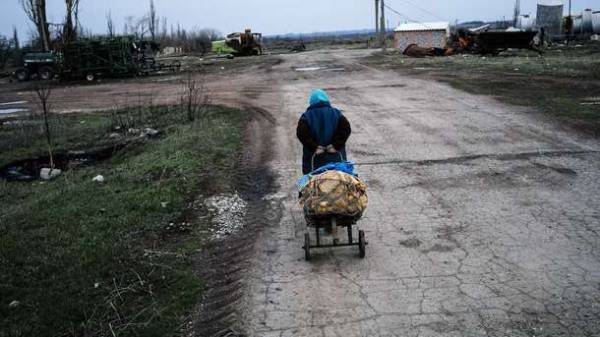 The President of Ukraine Petro Poroshenko sees no need for forced evacuation of residents living near the combat zone areas. The President said today, may 14, during the press conference.
"There is no mandatory evacuations will not. You remember, during the events in Avdiivka, when the night temperature was -25, no light, no gas, no heat, no water, we offered a voluntary evacuation. It took only 126 children. The rest remained," – said Petro Poroshenko.
The head of state said that during his recent telephone conversation with Russian President Vladimir Putin raised the issue of ceasefire. "From 1st April we made Easter cease-fire. From 1 April the number of attacks has decreased by almost three times. But now we see the opposite trend – the number of attacks begins to escalate," – said the President of Ukraine.
"If we run away from attacks, range attacks, which are armed with Russian troops today, systems of volley fire "Tornado" exceed 130-140 kilometers. Where to evacuate? We have to act exactly the opposite. To stop the fire," – said Poroshenko.
According to the Ukrainian President, one of the solutions to the problems we face today is the involvement of peacekeeping troops. "They got scared when I saw that the idea of peacekeepers is starting to find support. Was organized a car explosion special monitoring of the OSCE mission, which killed the American observer-paramedic", – said Poroshenko.
Yesterday, the militants attacked with heavy weapons on residential areas of Avdeyevka. One of the shells hit the courtyard of a residential building, killing three women and a man. As a result, two children were left orphans. The incident qualified as a terrorist attack. Today's mortar shelling on the industrial area of the Town continues.
Comments
comments