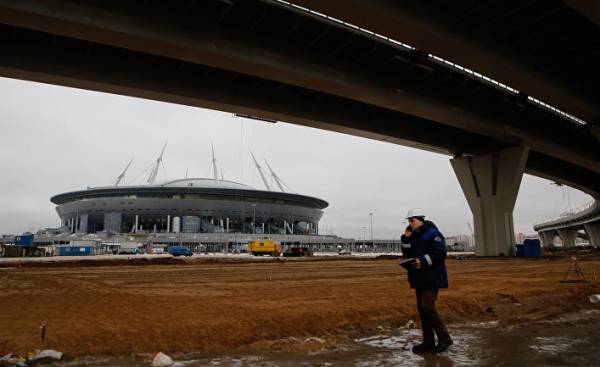 Brazil has successfully passed the qualifying competition of the world championship on football of 2018. Now it is the turn of fans to win a place in the stands.
Today, when Brazil has already officially belongs to a group of participants in the final tournament of the upcoming event (for which the Titus — special thanks), fans can start preparing for the trip to Russia. If you refrain from major sporting events, fearing for your budget, enjoy the moment — because before the tournament for the next 13 months — and start planning the trip in advance.
Although neither hotels nor airlines have not yet opened the booking system for the championship (which usually happens a year before the world Cup), we can get an idea about the approximate prices for the period of the world tournament, which will be held from 14 June to 15 July 2018. This will help you to Orient with airfares and understand which tickets you should buy. In addition, their special offers and prices already announced such operators as Stella Barros and Agaxtur.
This year in connection with carrying out in Russia of the confederations Cup (June 17-July 2) prices are likely to — somewhat higher than usual. Meanwhile, the Russian government has stated its intention to keep prices on hotels to "they are not out of control." This was announced during the world Cup in Brazil, the head of the Russian Committee for the preparation for the world Cup Alexei Sorokin.
If you dream of Russia, keep in mind that on this trip you will encounter at least two difficulties: the language and the distance separating the 11 host cities (we are talking about 12 stadiums, two of which are in Moscow). But if the third problem is the budget, here is the way will need our help. We spoke with two financial advisors who have given us a number of hints of economic character, so you can realize a cherished dream: to see how Brazil plays, one after another of the infamous seven goals (although it remains for us only to pray).
Travel planning
Start planning as early as possible. How many days you expect to spend in Russia? In what period? What games are a priority for you? Remember: the farther Brazil will move up in the standings, the more expensive will the tickets for the matches. Along with this will appear and more options to stay, because by the time many teams (and their fans) will go home.
"Consider your budget detail: flights, accommodation, meals, transportation, tickets, additional funds for leisure activities and unexpected expenses," says Ricardo Teixeira (Ricardo Teixeira), coordinator of the MBA course in the financial management of the Fund, Getulio of Vargasa (FGV). He recalled that some sports fans have reserved an apartment on Airbnb for two years prior to the Olympics in Rio. "Prices quickly rebounded, but soon returned to normal. Those who have booked in advance, as a result, paid as much as those who have done this closer to the event."
Money
Roy Bartelink (Roy Martelanc), Professor, faculty of Economics, management and accounting (FEA) University of são Paulo, sees no reason to buy rubles in Brazil. "For it will charge a fairly large Commission. Buy dollars or euros and exchange them at the place," he recommends.
To protect themselves from possible exchange rate fluctuations, it is better to buy currency in parts every month. "If you have composure, keep in mind that the tendency to fall, not dollar growth. But the absolute there are no guarantees," he warns. And joking: "since you, the fans, enjoy this movie and cheer at the same time and for the dollar."
Despite the tax of 6.38% on international financial transactions, a credit card can render you a good service, if to approach to business responsibly. With its help you can also accumulate miles. If you use it to, for example, to pay in installments the tickets, pay the balance in full every month, so you don't have to pay high interest rates. "The trip is relaxation. It is best to thoroughly prepare you to about anything then we wouldn't have to worry", says Renato Teixeira.
Have you started to save?
As in the case of the currency to save money each month and thereby to guarantee himself a trip — is also a good idea. "Every time, intending to buy some trifle, remember that now your goal ride. Often the most minor changes in handling money in everyday life can significantly affect the budget," said Roy Bartelink, Professor of FEA-USP.
Determine the amount that you are willing to save each month and put it into a savings account, which allows monthly replenishment and services which will cost you not too expensive, or invest money in securities. "There is a banking investment funds with higher returns than savings accounts for moderate contributions, allowing you to invest small amounts each month, recommends Renato Teixeira, FGV. Someone who has there are larger sums can still get great benefits."
Alone or with a package?
Ricardo Teixeira believes that the packages have the advantage of installments. In this case, you need to carefully monitor interest rates. "These rates always cover any income," he warns. So it may be advantageous to keep the money in the account to pay them at once in larger chunks.
Thus, the minimum price for a package tour of nine nights from Stella Barros is 5504 euros and includes the provision of services in the country: accommodation in Moscow and St.-Petersburg and travel between cities, where they will play Brazil. The cost can be divided into nine parts, the initial payment — 25%. Tickets to the VIP area will cost an additional $ 850, the minimum set FIFA price per ticket for group stage matches — $ 105 (dates of sales will be announced after the confederations Cup). The best price for a package that offers Agaxtur, six days for 5230 euros per person. The Lufthansa CC also has its own service packages.
If you prefer to travel independently, you will have to carefully understand all of the details. In cities such as Moscow and St. Petersburg, the flow of tourists needs to be much more, and the price is higher, but there are more accommodation options than in smaller cities. Due to the long distances suggest to settle in one place and in order to save to avoid displacements in the far city.
Comments
comments