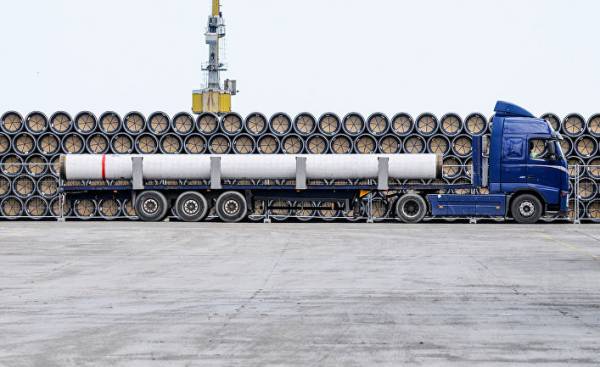 According to the expert Necdet Pamir (Necdet Pamir), the gas pipeline "Turkish stream", born in "forced marriage" of Russia and Turkey, strengthens the position of the Moscow leadership. As for Turkey, its dependence on energy imports will continue.
Started although with some delay, construction of the pipeline "Turkish stream", which has long been on the agenda of Russia and Turkey. It is expected that the line on which it is planned to transfer Russian natural gas across the Black sea to Turkey and then to Europe, will be commissioned in late 2019. In a statement, Gazprom, the Russian energy giant that is executing the construction of this pipeline, said, "Our Turkish and European consumers will receive a new reliable route for Russian gas imports". Who and what will benefit from the "Turkish stream"? Who will lose? What is the significance of this project for energy geopolitics? These are the questions we asked energy expert Necdet Pamir.
DW Türkçe Began the construction of "Turkish stream", which is expected to occupy an important place in the supply of Russian natural gas. Russia aims to transfer part of its natural gas to Europe via Turkey. When the "Turkish stream" will be ready to work, what changes in energy geopolitics can we expect?
Necdet Pamir: In December 2014, Putin arrived in Turkey, initiated this project unexpectedly and for Turkey itself. Then the capacity of the project was 63 billion cubic meters, four trumpets, of 15.75 billion cubic meters each. One part was to feed the Turkey, the second — Europe. The conditions in which Putin proposed this project? After the reaction of the EU and America on the events in Crimea and Ukraine. In addition, in response to the third energy project, prepared by the EC with the aim to break the monopoly of "Gazprom" in Europe. That is, Putin gave the signal: "I am not stuck if you try to stop me with sanctions, I also have different alternatives, especially Turkey". We all had serious doubts about the feasibility of these plans, it was more of a political project. After between Russia and the EU has not been found a common ground, will the pipeline through Turkey or through Bulgaria, before it will still be a hurdle. In other words, this conflict was based on the inability to find common ground. Then what? Airplane crisis in relations with Turkey and stuff, and the project was shelved. Then because of the forced relationship forced marriage resumed. The project was revived. Only this time the "Turkish stream" was to become operational with a new power. Two pipes with a capacity of 15.75 billion cubic meters, one of which will stretch to Turkey, and the other through Turkey to Europe. Now again, there are disputes about how can gain vitality the second thread, if Europe again will not be able to come to a certain point.
— For Turkey so this new line that will pass through its territory?
— From the point of view of Turkey, she receives a pipe capacity of 15.75 billion cubic meters instead of 14 billion. That is, in terms of our dependence on Russia of any significant change of the question, and so the dependence is very high, at 55%. Turkey's dependence on Russia will not decrease, but increase slightly. In addition, Russia will give a signal to Ukraine. "To trust or not to trust Russia?" It turns out that when you are so dependent, if Russia wants to punish you, gas is blocked, whether it is a "technical failure" or other some reason, the Turkish economy is in a difficult situation.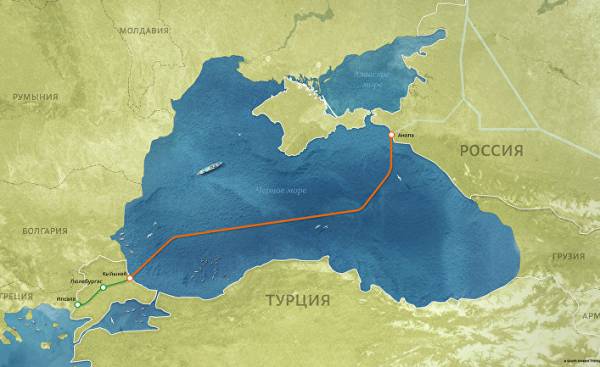 © South Stream Transport B. V. Marine pipeline "Turkish stream"
— What does this mean from the point of view of energy security of Turkey?
— Excessive dependence on Russia — a very serious risk. If you pay attention to the daily needs, in the cold winter months it reaches 260 million cubic meters, but our physical potential is of the order of 210 million. Of these, 90 million we received from Russia. When added to the "Turkish stream", we will get 100 million. If 50 of the 100 will be cut off suddenly, life will be paralyzed. "Turkish stream" does not worsen the current situation, but since our main goal is to reduce the dependence, the need to reduce dependency from natural gas.
— Who wins and who loses from the "Turkish stream" in its current form?
— Russia wins. Why? It punishes Ukraine, directly reaches Turkey, sells gas to more than 1.75 billion cubic meters. Someone might say, "What do you mean 1.75 billion if there is an agreement for 30 billion?". Giving a signal to Ukraine and increasing its share, Russia strengthens its position in Turkey until then, until you earn the TRANS-Anatolian gas pipeline (TANAP). Besides it gives many signals. First of all the EU. Therefore, in the first place from this project wins Russia. Turkey does not receive discounts on natural gas from this pipeline. For Turkey this is not big trouble, but we can't say that Turkey gets what he should get.
— "Turkish stream" — a competitor of TANAP, the construction of which was started earlier, which aims to transfer Azeri natural gas to Europe through Turkey? Ankara said that it will strengthen Turkey's position; how do you think that is?
— TANAP we will receive six billion cubic meters of gas from Azerbaijan. If you look in the most General terms, when the TANAP, our dependence on Russia in some way will decrease. It is good from the point of view of energy security, it will strengthen the position of Turkey on TANAP was signed such an agreement that in economic terms Turkey was at a loss, and Azerbaijan in the black. While it would be much wiser to use an unused pipeline capacity BOTAŞ, you will participate in the cost of tubing and also have high shipping costs. Therefore, in economic terms, Turkey has not signed the best agreement on TANAP.
— Was recently revised forecasts of the needs of Turkey in natural gas, what can you say in this regard?
We see that the forecasts have been revised downward. Early was much higher forecasts. At the same time, under the slogan "national coal" we are doing the wrong thing. We have always supported the policy based on our own resources, but in the area of coal, make the wrong moves. They say: "We will focus on domestic coal, our need for natural gas will be much lower than expected and almost stabiliziruemost". In 1990, Turkey's dependence on energy imports was 52%. In 2000, 67%, last year 76%. Our dependence is growing. In this regard, you can fully support coal, but the calorific value of coal in Turkey is extremely low, with high moisture content, sulfur, ash content. Therefore, we need a special approach. However, in the tenders that are carried out today, you say: "Which companies will come, I will give them all our resources are free; some of them will sell me the cheapest electricity, the tender will be it." So you are ready to give the tender to someone who will set the lowest price, without putting any conditions related to the type of boiler technology, combustion, emissions, again contributing to the pollution and conclude agreements that do not know what will. This is extremely wrong. It is necessary to conduct a separate special study in relation to coal in Turkey.
Energy expert Necdet Pamir, a lecturer in energy policy in the world and in Turkey within the framework of bachelor and master programs at different universities, head of the Commission of the Republican people's party on energy working group of Chamber of petroleum engineers Union of chambers of Turkish engineers and architects (TMMOB) on energy policy, is editor of the website enerjienergy. com.
Comments
comments