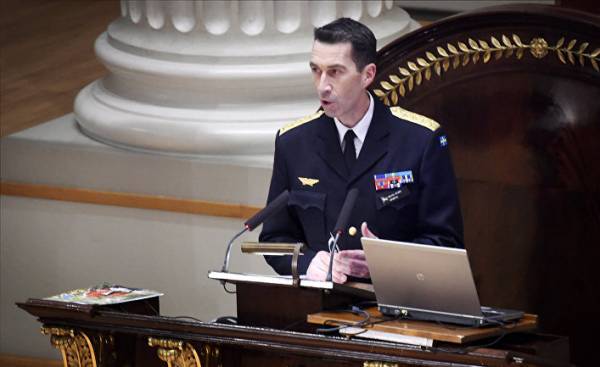 The close cooperation of Sweden with NATO should keep Russia from attacking. This was stated by Curtis Scaparotti (Curtis Scaparrotti), Supreme commander of the United armed forces of NATO in Europe, after a meeting with leaders of the armed forces of ten countries of Northern Europe.
General Scaparotti — acting commander of the European command of US armed forces. Together with the commander of the armed forces of Sweden Mikael Budena (Mikael Bydén), they took on a one-day meeting of the leaders of the armies of Germany, Poland, Estonia, Latvia, Lithuania, Denmark, Norway, Finland and Iceland.
The two generals on meet the press said that I agree that the progressive deterioration in security across Northern Europe, associated with "destabilizing the military and political measures of Russia".
Michael Baden stressed that Sweden, participating in the enhanced NATO exercises will become your partner for neighboring countries.
"If you know each other and trust each other, this ultimately can play a very important role when you have to take active measures," said Michael Baden.
On the question of whether to come to the aid of NATO of Sweden in the event of a conflict between Russia and Sweden, Curtis Scaparotti said:
"This is a political decision, not mine. But we train together, we build together and we are partners. First of all, the result will be that our strengthened cooperation will convince Russia to abandon any action".
Dagens Nyheter: the chief of the General staff of the armed forces of Russia Valery Gerasimov recently described NATO as a threat and called the Finland and Sweden part of NATO infrastructure. How can you comment?

Curtis Scaparotti: Sweden and Finland is a sovereign country and have the right to be with whomever they choose. They have a close relationship with other European countries and those of us who are part of NATO. How would they (the Russians) you may call, we are close partners, and that they will have to understand.
In addition, Scaparrotti met with Minister of defence Peter Hultqvist (Peter Hultqvist), which was also discussed, including conducting in Sweden, a large-scale air exercise Northern Flag, the planned US and Sweden in 2019.
"My meetings with Scaparotti went very well, we had a great conversation. It is with great enthusiasm supports what we have come," said Peter Hultqvist, the newspaper DN.
Military exercise "Aurora"
The autumn military exercises "Aurora 17", which will be held in September, called the largest military exercises in Sweden for the last 20 years.
Exercises will be conducted both in the air and on the ground and in the sea, in Malardalen, Stockholm, in the district of Gotland and Gothenburg.
Just exercise will involve 19 thousand men and women from the armed forces and other structures of Sweden and from other countries. The number of participating countries — Denmark, Estonia, Finland, France, Lithuania, Norway and the United States.
One of the goals of teaching is to train to repel an attack on Sweden.
Comments
comments