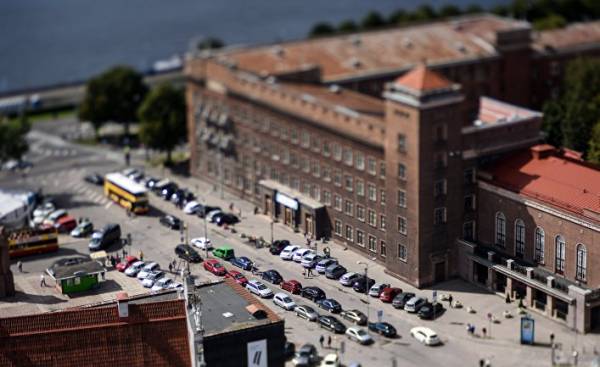 This Tuesday Russian around the world celebrated the victory Day commemorates the Soviet victory over Nazi Germany. But how well represented are Russian, now living in the Baltic States, the demonstrations in Riga and Tallinn? Yle Nyheter discussed the identity of the two Russian girls who recently decided to obtain Latvian citizenship.
"A safe bike path from my house to work there… If the British chose Brexit, and the Americans trump, then maybe we will be able to choose someone who will truly worry about cyclists?
At least, in theory anything is possible if to climb off the couch and go to polling station".
So wrote a radio journalist Ksenia Kolesnikova in his blog in January.
Her problem was that she was one of the so-called non-citizens of Latvia. She never had the right to vote in parliamentary elections or elections of the European Union.
"All my life I was nagradami, and now I decided to change it."
A "Project citizenship" it took a colleague at the Latvian broadcasting company Anna Stefan.
Of those 500 000 ethnic Russians who live in Latvia, more than half of the owners of grey passports, i.e. they are non-citizens.
Grey, Latvian and red passport
In the 1990-ies Latvia and Estonia decided that the Russian and children Russian who moved to the Baltic States in the Soviet era, will not receive Latvian citizenship automatically.
In order to obtain citizenship, they must meet certain criteria, which primarily means taking a test on language and history, as well as civil test.
Of those 500 000 ethnic Russians who now live in Latvia, more than half of the so — called grey passports, that is, they are non-citizens.
Their right to vote is limited and they are not subject to the freedom of movement within the EU. So it's harder for them to travel, work and study abroad.
In addition, they may not work in all public sectors.
Approximately 50 thousand people in Latvia are Russian citizens, encouraged by Russia.
Almost 250 thousand Russians have Latvian citizenship. Some part of them has them for historical reasons — as in Latvia always lived Russian minority.
But most of them got citizenship, passing the tests on language, history and civics test.
"I already tried that once before, but then I was not sufficiently motivated. The youth often thinks — "of course, you can pass a test, but life's pretty good without it"", says Ksenia.
Anna believes that the attitude to the Latvian citizenship more difficult for those who were young in the 1990-ies.
"Many of them are bothered by the fact that Latvia has decided not to give them citizenship automatically. For them to obtain Latvian citizenship is often a matter of principle," she says.
The process consists of three parts: registration, language test and civil-historical test.
Ksenia grew up in an environment where the Latvian language was part of everyday life. So for her visit to Civil immigration was simple.
They immediately stated that she is well aware of Latvian language, not to pass it test.
"I had a great teacher in Latvia," she says.
Funny for some, disparaging for others
Anna, on the contrary, believes that the situation was humiliating.
She didn't understand why it should become the object of consideration in connection with the problems of nationality.
"I was born in Latvia, why should I have to prove something? I'm not to blame, and tired of waiting for me that I have to sort out who is to blame for the Latvian situation."
When officers examined the documents of Anna, they decided that she needs to pass an English language test.
They thought she led the life, are not sufficiently integrated into Latvian society.
In the blog post Anna wrote that her first thought was "great, finally I can refresh your knowledge of grammar."
But when she got down to business, began to receive negative thoughts.
She began to sympathize and to feel bitter.
"It's amazing, because that in itself is Latvian language I love. In school I didn't like that we had to study many subjects in Latvian, not Russian, but now I realized that actually it was good."
But the language test was easy.
Was civil the historical test.
"The Ministry of education for many years has spent large resources to train us in school to understand the pain of both sides," — says Ksenia.
All Russian children met the eyes of Latvians and the second world war and the Soviet occupation and annexation of Latvia.
Were both pleasantly surprised at how polite and friendly with them all the time addressed the staff.
"They looked so happy that we came, — says Anna — Nothing felt nationalist or provocative."
The most difficult thing for Xenia was alone to sing the Latvian national anthem before the Commission.
"It is on the anthem I went last time — she admits, — I did not want to sing and chose instead to deliver the text in writing. On paper all of my grammatical errors became apparent".
In his blog Ksenia and Anna mention the study of the University of Latvia.
The study is called "the Identity of students of schools of national minorities and their belonging to Latvia".
In the future there will be identity of the "Latvian Russian"
According to the study, the students of such schools do not feel Russian, and Russian-speaking children in Latvia.
This contrasts with previous generations. Even the young Russian-speaking adults tend to feel more ethnic Russians who live in Latvia.
In addition, research on schoolchildren shows that the relations between the language groups is better outside Riga, than the capital.
"It touched me, says Anna, who grew up in Riga, My first job meant that I would become a part of the Latvian team. I threw in some new world and I'm stuck".
Thanks to the blog Anna and Xenia took an unexpected insight.
Almost all of the comments of the Latvian readers were positive and encouraging.
"We received a lot of angry comments from Russian, — says Anna — Many believe that we are traitors."
Both noticed that their positive attitude to Latvia, it seems, it seems provocative.
"They accept what you want to get a Latvian passport, to be able to go abroad, but when they realize what do we consider Latvia their home, they fall into a rage".
On victory Day many of the most angry Russians gathered in Riga's victory Park.
It is also a day when ordinary Russian people honor their fallen in the second world war ancestors.
"My friends and I usually avoid the Park of victory, says Anna, I usually go to the grave of my grandfather with my grandmother and mom. It is in the suburbs of Riga".
Xenia friends also prefer not to visit a major folk festival in Riga's victory Park.
"For me it's part of the political position I don't want to accept it, — said Kseniya — There goes lots of strange people who call themselves patriots."
Latvian citizenship have a little different identity from a purely practical point of view
And Ksenia, and Anna passed the citizenship test in late April.
For Ksenia in obtaining Latvian citizenship there was nothing dramatic.
"A bit unusual not to feel intriguing person without citizenship among Latvian friends."
Ksenia Kolesnikova has already received Latvian citizenship, and Anna Stefan, for practical reasons, will pass the procedure of obtaining citizenship in mid-may.
"I was in Russia and visited relatives that day when he was supposed to participate in the ceremony beginning."
Comments
comments