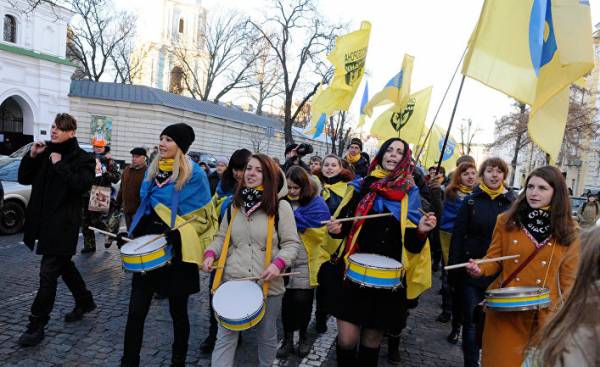 "When we next time will be a government oriented to the West, then we may have to think again about the status of Donbass and Crimea", — said Yuri Andrukhovych about Eastern Ukraine and annexed in 2014 by Russia Peninsula. "The people there are more oriented to Moscow."
It's two sentences from a single interview which the author and translator Andrukhovych gave in 2010 in the Ukraine — that is, before the start of the euromaidan of 2013, the Crimean crisis and the war in the East of the country. This interview haunts him still, because it sounds like Andrukhovych is a traitor to the Motherland.
A writer sits at a table by the window at café Vetter in the upper town of Marburg and looks into the valley of the river Lahn. In a small town in Hesse, he came for three days to speak. "I misunderstood," he says. This is not the first time he has to explain. One part of Ukrainians, according to him, didn't want Kiev was attached to the West. However, the resulting problems had to be solved in Ukraine, he in any case is not a defender of Russian intervention, says Andrukhovych.
Quite the contrary, he is a tough critic of the Kremlin's policy. The last time he was in Russia in 2005, he is now uncomfortable, it scares the authoritarian policies of Vladimir Putin. In 2014, with the annexation of Crimea, he broke up with former colleagues. "I was offended by some Russian intellectuals who write Putin a letter of thanks for "the return of Russian lands," says Andrukhovych.
At the same time Russia is important for him, especially in cultural terms. In 1989, he thanks to a scholarship he arrived in Moscow as a national writer of Ukrainian SSR. Two years later he completed his education there, forty days before the announced end of the Soviet Union. 90-e years when in Russia under Boris Yeltsin was chaotic time marked by distortions in the transformation of the market. However, culturally it was a time of prosperity for the Ukrainian-Russian relations.
Andrukhovych spoke with representatives of Moscow conceptualism, a connection concept art and Sots art. Belonged to him during the underground avant-garde of the 70-ies and 80-ies giants such as essayist Lev Rubinshtein. In 1999 Russian friends Andrukhovych organized in Moscow the festival "southern accent". It was dedicated to Ukraine and its literature. This name, like Andrukhovych still. When you mention it in conversation, he quietly smiles. Beautiful presentation: the Ukrainians as the South Eastern Slavs with their way of life, humor and energy. Then, in 1999, they understood each other. It was a last minute Russian democracy, says the writer today.
Yuri Andrukhovych is energy. It's got depth, charm, he is a polyglot and writes stories about which it is difficult to say whether they are from the wild life, whether of Bulgakov's fantastic travels: the Eastern European intellectual, which in the West is small, while its import or grind from all sides and angles.
In conversation, constantly moves Andrukhovych then German, then Polish, quickly stirring with a spoon in the Cup. "I'm sorry, but I have this dependency on coffee-espresso," he says. Ukrainian is his first language. He never wrote a single work in Russian, although it is stated otherwise. He always wrote in the Ukrainian language. In Russian and in English he also says, and who knows how many languages else.
Perfecti is a scoundrel
He does not hide that would readily be like his character from the novel Perfecci. A "Perversion" Stanislaus Perfecci like a wandering light wandering in many European cities of the early 90-ies. He is everywhere at once, speaks to thousands of people reeling in smoky bars. There is no such tool, which he did not own, and not a whore in sight whom he could love — no matter where in West Berlin or Venice.
Perfecci a scoundrel and a poet, a real beast, which disappears the same mystical way as they came. "I wish that I could own so many tools," says Andrukhovych. It's been 35 years married, children grew up, the son lives in Warsaw, a daughter, Sofia Andrukhovych, is for its part one of the most famous and successful writers in Ukraine.
Yuri Andrukhovych does not live in Kiev, where the intellectual life of the country, and in Ivano-Frankivsk in Western Ukraine, which has so often changed his nationality: Poland, Austria and the Soviet Union, they all had it and were forced to give back. When Andrukhovych was born in 1960 and the city was called Stanislav, before that, Stanislav. His family lived there for three generations, it has grown together with the region of Galicia that is known for its literary tradition.
Meanwhile, he is not a Galician writer, clearly States it. Thereby he would himself have made "provincial". But of course Andrukhovych is Galicia, it is as a literary surveyor. He translated into Ukrainian the complete works of the German writer Bruno Schulz (Bruno Schulz), who hails from the city of Drohobych. He was also like Joseph Roth (Joseph Roth) and his "Radetzky March".
However, his Grand literary samples are still others, for example, a connoisseur of souls Nikolai Gogol, Ukrainian "Hohol". Slavist Yury Shevelyov allocated in one essay three authors, which influence on the Andrukhovych: Ernst Theodor Amadeus Hoffmann (E. T. A. Hoffmann), Heinrich Heine (Heinrich Heine) and just Nikolai Gogol. "Go Gay," called Slavist this three — hint based Andrukhovych in 1985, performance group "BU-BA-BU". The fact that it is compared with the great representatives of world literature, it must be good. But Andrukhovych does not show this. Or he got used to it?
In Marburg Andrukhovych imagine how "the most significant representative of the Ukrainian literature". He takes the stage at café Vetter in a black jacket and a wine-red t-shirt, knocking a finger on the microphone. Only now everyone, including guests weekend guests off your Breakfast. In front of the stage all the seats were occupied, many Ukrainians came from Frankfurt or Cologne to listen to Andrukhovych, as he will read from "Little lexicon of intimate cities", his latest published in German language book. Again, the city, personal experiences and events. It perfectly tells the story of Lviv and Berlin, about the streets, people and their habits, he quotes other authors and their works.
However, on stage, Andrukhovych says nothing about the war in Ukraine. In a personal talk he says on this subject only after a small internal resistance. Just as he became disillusioned with Russian friends, he is disillusioned now and in some German journalists, who in conversations primarily asked him about the Nazis in the ranks of activists of the Maidan. The fact that not all the rebels were clear intentions, Andrukhovych does. But given the fact that in his country there is a war, for it is just a comment. He would like more solidarity from Germany, he says.
Big politics, Crimea, Ukraine's fate: these topics are pursued Andrukhovych in these days. After his speech in Marburg he was approached by a man from the audience with his wife. Vladimir Zhemchugova more no hands, only two of the prosthesis. He fought in the East of Ukraine, was captured, imprisoned separatists.
He tells Andrukhovych its history. The writer is thrilled that the man he had come all the way to Marburg. "How can such a situation to stay out of politics?" — he asks. Andrukhovich regularly speaks about the war in Ukraine. But the one who listens, all the same notice how he didn't want to talk about it.
Comments
comments