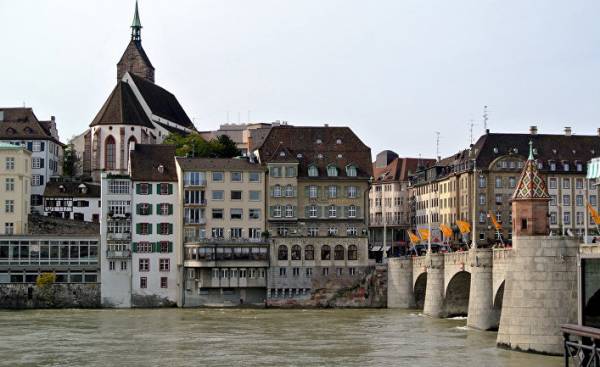 Expats living in Basel, explains why the Basel, along with Zurich, Sydney and Vancouver, is one of the world's best cities to live and work.
In Basel live exactly 200 thousand people. It is the third largest city in Switzerland after Zurich and Geneva, 35.7% of its population are foreigners. Basel — centre of the Swiss pharmaceutical and chemical industry. And it is famous for its museums — there are about 40, including the most visited Museum in the country, "Fondation Beyeler".
As shown by the latest annual report of the company "Mercer" (working in the field of personnel management and the provision of relevant financial services — approx. ed.), along with Australian Sydney Swiss Basel occupies the tenth place in the list of cities with the highest standard and quality of life.
This assessment of the city located on the border of Switzerland with France and Germany on the bend of the Rhine, for the first time. What happened and is it really in Basel "life is good, and live well"? We asked two expats, and that's what they told us.
Jacqueline Huwyler (Jacqueline Huwyler) 24 years old, she is half Swiss, but grew up in the U.S. state of new Jersey. In August of 2016 moved to Basel and writes since then at a local University a doctoral thesis in the field of Egyptian archaeology.
I was familiar with Basel still in the past my visits to relatives. Even then, it seemed to me that the quality of life here is very high. I had the impression that people in Basel are happy and they live comfortably. When I moved here, all is once again confirmed. Besides, Basel is very suitable for my study. Did I have culture shock? I would not say! But, just maybe the reason is my personal special circumstances — because I have lived in different places in the world.
But in General personally I saw Basel as a city is very friendly towards the citizen of Switzerland who had just returned to their homeland. Study, and life in General, regulated here, not as much as I expected. After all, in America everyone says, "You should always be punctual, you should never be late, you have to do everything right and avoid mistakes."
However, by and large, the requirements for my studies and work have remained the same as before. My father didn't teach me Swiss-German and a language for beginning German, I taught myself. It was difficult, but not impossible. Without knowledge of German here, of course, nothing to do. On the other hand, many here, especially the youth, a little, but still speak English. Fortunately, most people are very friendly and always willing to help when I speak German.
But what me really shocked, so are the prices. Last year I spent some time in Virginia, I had to start working on my other doctoral dissertation. The training fees were incredibly high, but the cost of living was virtually zero. Here, the opposite is true: my school cost next to nothing, it's just a couple of hundred francs per semester, but the cost of living here is significantly higher.
I love to sit sometimes on the banks of the Rhine, especially in the summer. Here there are everywhere small device for grilling and can be consumed as much alcohol as you want until you get drunk in the literal sense of the word will not fall to the ground. And you can just make yourself a fancy cocktail and SIP it forever. I've managed to swim in the Rhine. Some people think that this is crazy, but here at people of my age, this activity is very popular. City officials are closely monitoring the purity of water in the river, so it is quite suitable for swimming.
In childhood I dreamed of becoming a Professor, an Egyptologist, to engage in archaeological excavations. So in my life in the first place has always stood career. If possible, a post-doctoral thesis I would like to stay in Basel. If it doesn't work with Switzerland, there is another option — Dutch Leiden. In any case, I want to permanently put down roots in any Western European country. Besides the difference in prices I was struck in the eye differences in labour standards. In this sense, the mentality in Switzerland is very different from the us.
In USA have to work till you drop without a break and, if lucky, get maybe a couple of days off, but sometimes the situation is only getting worse. Company in the States, sometimes very negatively perceive even a simple request to leave. Here everything is very different. As a child I was always told that here, they say, what kind of life my Swiss relatives, they always go somewhere on vacation and they have a life outside of work. And when I moved here, I saw the example of many of my friends, my family members and fellow students that all this is true. This is a very positive impact on the quality of life. And this is one of the most important reasons why I want to stay here.
Kathy Hartmann-Campbell (Kathy Hartmann-Campbell), 62, was born in the U.S. state of Connecticut. Conducts training in communications and communication skills, a volunteer working on integration of expats. With her husband, a Swiss, Katie met while traveling in Europe and for 35 years she lived in Basel.
When I, in 1982, came to Switzerland, I experienced culture shock, and so strong that I even had to ask for help to a therapist. But in the end, my life has definitely changed in a positive direction. After accumulating some experience, I realized that I can pass it on to others. That's why I went then she to study to become a therapist. My profession led me, in particular, to my current volunteer work in the integration of expats in addition, I do a lot of issues of intercultural communication, helping, in particular, find solutions to their crises.
Basel I has always been called a cosmopolitan village. Here you can plunge into the cultural environment of the world level. At the same time, it is a very small town, and here in any place can be reached just by bike. And then many would seem completely foreign to you, people are gradually becoming friends, just because you meet with them constantly. Not everybody likes it, but, in my opinion, this is one of the most beautiful parties of the Basel.
The biggest challenge is to find ways and methods contact with the local population. That is why I joined in the organization "Basel ConnectВ" — an institution that deals with the integration of expats through the activation of the process of exchanges and contacts with the native inhabitants of the city. To mobilize their often-it is very difficult, because they all already have their own network of contacts and relationships, and therefore to make new friends they just don't want to. Most often in our events involve people who themselves have lived abroad or moved to Basel and other Swiss cities and villages.
I remember that when I first came to Europe, in one of the guidebooks I have read here is a description of this city: "Basel — gray industrial city on the Rhine, which is on the border of Switzerland with Germany and France. If you ever have to visit him, only to at the station to transfer from one train to another." Yes, of course, traffic flow is growing from year to year, people come here not only on trains, but even on cruise ships and buses. But still, it's great that Basel is still largely an unknown city. Although the risk that he will one day lose their qualities rather village, is also growing.
Comments
comments