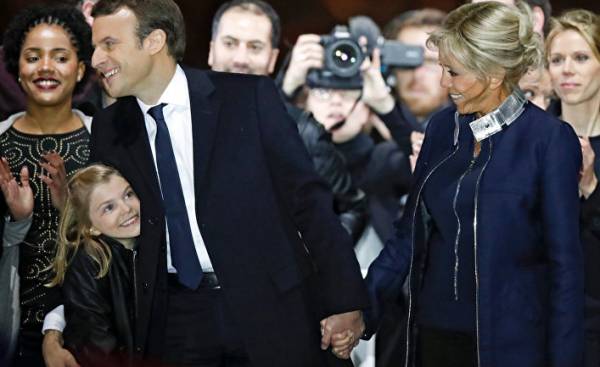 French politicians reacted to the election of Emmanuel Macron, the President of the French Republic. The first congratulated the acting Prime Minister, Bernard Cazeneuve.
Francois Hollande warmly congratulated Emmanuel Makron with his "great victory." Hollande's government gathered in the winter garden of the Elysee Palace, met the message of the victory of Macron applause.
Prime Minister Bernard Cazeneuve said the "sober mind" of voters who were able to confront the "disastrous right-wing project". He also noted that "left-wing members of the government" should "contribute" to the five-year reign of Makron.
Minister of ecology Segolene Royal after winning the Macron said that "it's time to work together." "We need to ensure parliamentary and governmental majority," she added, congratulating the Macron with "a victory of courage, imagination and hope."
François Bayrou, President of the MoDem party, supported the Emmanuel Macron during the election campaign, congratulated him on his "wonderful and meaningful". He added that France embarked on the path of hope, choosing "the youngest President of the fifth Republic, ( … ), and the youngest head of state on the planet".
Former Prime Minister Manuel Valls welcomed "a great victory" of the Macron in the second round. "This is the result of mobilization of the Republic against malice and hatred," he said on Twitter.
"The Republic won. Congratulations to the new President," tweeted one of the leading figures of the Socialist party Martine Aubry.
The first Secretary of the Socialist party Jean-Christophe Cambadelis also believes that the victory of the Macron is "victory of the Republic, which we defended tonight." He stressed that it considers the 11 million votes cast for the national front, "a sad record that made our country". "This is an urgent call for unity", he added.
Former Minister of justice Rashida Dati (Party "the Republicans") congratulated the Emmanuel Macron on the victory, noting that "three years ago nobody heard." "We can't drive policy as much as before, and this is a warning to all politicians," she said in an interview with journalists BFM TV.
"I would like to work in the government majority" around the new President, said the former Minister Bruno Le Mer (the Party "the Republicans").
Jean-Luc Mélenchon believes that the program of Emmanuel Macron means "war against the social gains of the country." "Today we have entered the era of the weakest presidency in the history of the fifth Republic", — he said.
Pierre Lauren, Secretary of the Communist party of France, said on Twitter "relief" that he experienced after the announcement of the victory of the Macron. The victory itself he regards as "fragile".
Finally, the rival of Emmanuel Macron, in the second round of the elections of marine Le Pen wished the winner "to succeed in dealing with the huge challenges" and said that the national front will become the "main opposition force".
Comments
comments