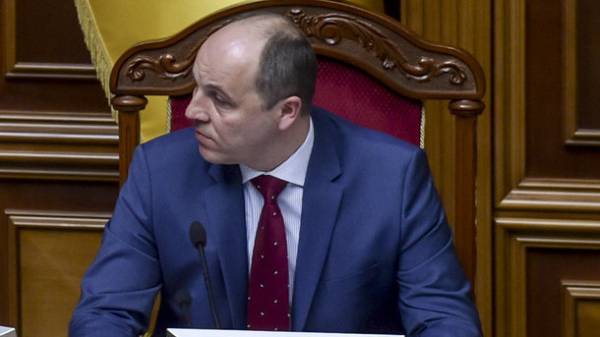 "The plan Artemenko" regarding the lease of the occupied Crimea Russia is part of a directed campaign in Ukraine and abroad, to legalize the stay of the invaders on Ukrainian soil. This was stated by the head of the Verkhovna Rada Andrei Parubiy, reports UKRINFORM.
He commended the exception of the people's Deputy Andriy Artemenko from the Radical party.
"I think the organizers of this action are deeper behind Artemenko. I welcome the decision by the Radical party Lyashko for the exception of this man, and I believe this element of directed campaigns in Ukraine and abroad, to try to legalize or give a legitimate reason invaders on the territory of Ukraine", – said Parubiy.
According to him, the Ukrainian authorities insist on a complete withdrawal of Russian troops from the occupied territories
"That day when we stood on the Maidan under bullets, 20 February the first Russian forces had entered Crimea, and it is hard to imagine what would happen if independence is not won. The occupation began with Crimea and will end deokkupatsii Crimea. Crimea will be liberated, it will be returned to the legal field management, and such provocations and attempts to convince Western partners that Ukraine can find a compromise on the Crimea – not true. Our position is clear and firm: the invaders from Russia must leave the occupied territory of Donbass, and the Crimea, and from this position the Ukrainian government will not go", – summed up paruby.
We will remind, The New York Times reported that the people's Deputy Andriy Artemenko has developed a plan for peace between Ukraine and Russia and the lifting of sanctions against Moscow. Supposedly the plan was transferred to the former Advisor to Donald trump to Mike Flynn shortly before the resignation of the latter.
The plan, according to The New York Times, provides for the withdrawal of Russian troops from the Donbass and the national referendum on the surrender of the Crimea is leased by Russia for 50 or 100 years. In addition, Artemenko has allegedly provided evidence of corrupt activities of Petro Poroshenko, which included the names of the companies and Bank transfers.
It also became known that on 20 February the faction of the Radical party decided to exclude from the faction people's Deputy Andrey Artemenko for his "plan".
Comments
comments