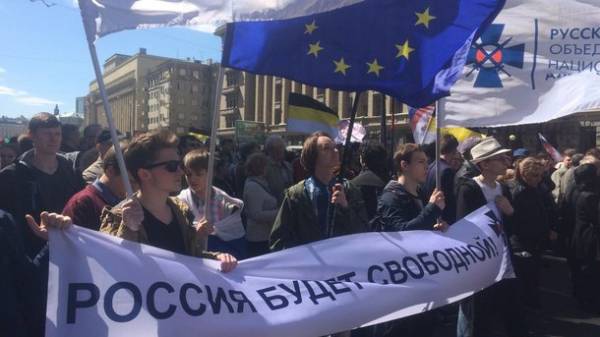 In Moscow held a sanctioned rally under the slogan "Enough of Putin." On academician Sakharov Avenue in Moscow gathered several thousand people. The venue cordoned off by temporary metal railings, entrance only after inspection by the police.
A rally to mark the fifth anniversary of the mass protests on may 6, 2012 in Moscow, which occurred on the eve of the third inauguration of President Vladimir Putin and ended the riots, and subsequently condemned to real terms of imprisonment of several dozen Russians.
The protesters handed out badges with the inscription "Freedom to the heroes of may 6", and white ribbon with the inscription "5 years of the Swamp."
You can also see posters: "may 9 holiday, and I will select the last", "the State must protect us, not to travel," "Homophobia kills", "the Yoke of the FSB" and other. Many holding Russian flags of various opposition parties and movements of Russia.
Activist Ildar Dading, that for participation in an antiwar picket was sentenced to three years in prison, said that his work, as before, aimed at ending the war against Ukraine.
"I feel that the blame for the blood that is shed in my country in Ukraine, lies on my conscience, as the citizen of Russia who failed to prevent it," said Dading, who came to the rally tied on the shoulder with the flag of Ukraine.
On the stage was installed a banner with the inscription "Stop Putin! Enough of war! Enough obscurantism! Stop the repression! Enough to tolerate Kadyrov!". But it tore militiamen after specifying men in civilian clothes.
It is expected that the campaign will last until 15.00.
Comments
comments